Continuing a tradition of excellence
November 1, 2018
/
/
Comments Off

on Continuing a tradition of excellence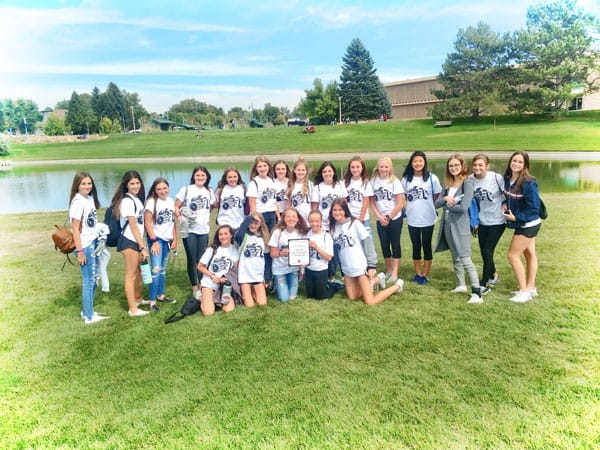 Pictured right: Rocky Heights Middle School yearbook staff brought home the All-Colorado Award from Journalism Day at Colorado State University. Students from left to right (back row): Kaderia Barela, Kennedy Vasquez, Kelsey Brown, Anna Porter, Hailey Taylor, Raegan Synk, Annabelle Girard, Alivia Ball, Nicole Flocco, Sophie LeGrande, Rachel Cook, Jessica Wang, Maia Vernetti, Sydnee Nach and Cassie Watson. Left to right (front row): Devon Kessler, Camille Leach, Taylor Jeppson, Natalie Bruce and Keira Schnell.
Submitted by Kennedy Vasquez, RHMS student; photo courtesy of Julien Bouquet
Getting an early 6 a.m. start, the editors and returning students of the Rocky Heights Middle School (RHMS) yearbook staff boarded a bus September 27 headed to Colorado State University for the annual statewide Journalism Day conference, better known as "J-Day." Upon arrival, teachers, administrators, speakers, printing representatives and fellow journalists welcomed the students.
The field trip let the staff spend their day with professional writers and photographers while exploring their own aspects of journalism, photography and design. The goal of this conference was to develop and enlighten the journalistic perspective of the attendees and teach them the significance of a journalist's role in the community. Speakers emphasized the importance of sharing one's truth and harnessing the power of the rights we have from the First Amendment.
Another focus for the students was learning to apply various elements of other publications to better their own, including components of design, writing and photography. These elements weigh heavily into how the book will come together and incorporate the message of the year.
About the importance of J-Day, head editor Natalie Bruce said, "This is one of the biggest events of the year for us. Using what we learn from J-Day helps us critique our writing, improve our photography and define our elements of design. And J-Day gifts us with validation for our hard work in the past." Design editor Devon Kessler added, "Journalism Day is crucial to the development of the yearbook because the inspiration we get from past books greatly impacts almost every component of our theme. We take it very seriously because some of our best ideas and improvements come from the failures and successes of other publications."
Ending the day, the Nighthawks attended the closing ceremony and claimed the All-Colorado Award for last year's book, the most prestigious award that can be won at a state level. If the Nighthawks win again next year, you'll be seeing them in the hall of fame. With the information from Journalism Day, this year's yearbook is sure to be a great one. For the returning students, their goal is to leave their legacy and pave the way for incoming journalists.
As Julien Bouquet, RHMS epub and multimedia instructor said, "We're continuing a tradition of excellence."