Cooks Corner – Safe and healthy grilling techniques
August 1, 2009
/
/
Comments Off

on Cooks Corner – Safe and healthy grilling techniques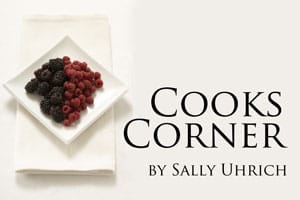 "Good organization before you begin cooking is one secret to successful grilling. Proper planning can make a big difference between cooked and burned, and between safety and danger," says Fred Simon, owner of Omaha Steaks and contributing author of "Omaha Steaks Let's Grill Book."
A clean grill is essential to safe grilling. A thorough once a year cleaning should be done, following the manufacturer's directions. Check equipment thoroughly, especially the connections and hoses from the gas supply.
Cleaning your grill after each use will prevent corrosion. Emptying ashes when cool with a charcoal grill is essential. Use a wire brush and soapy water to clean the fire and cooking grates, then wipe or spray with a little cooking oil. For a gas grill, turning the heat to high for 10 minutes after each use will burn off much of the residue left on the grates. Dr. Richard Collins, Denver's own, " Cooking Cardiologist," recommends further cleaning the grates with a cloth soaked in water and moved over the grates with a grilling utensil.
Keep the grill lightly oiled to prevent foods from sticking, especially for lean foods such as fish or vegetables. Use cooking oil and a cloth, or nonstick cooking spray. Do not oil the grill once the fire is started.
Brushing oil or spraying the food with nonstick spray is also a necessary component to safe and easier grilling. Trimming most fat from meat, leaving no more than a quarter inch, will help to sear and brown meat, not scorch or blacken it, and it will eliminate flare-ups.
The Colorado State University's Home Extension Hotline has the following guidelines for cooking temperatures of different meats.
Ground Beef – internal temperature of 160 degrees is recommended. The juices should run clear and the meat should not be pink.
Steak – internal temperature should not be below 126 degrees. The meat may be pink or reddish and the juices need not run clear.
The reason for the difference is due to the bacteria content and placement on the beef. Ground beef is composed of different kinds of beef, with bacteria throughout the meat. The bacteria on steak is only the outside of the meat. The heat of the grill kills the bacteria on the outside of meat much faster than if it were on the inside.
Chicken – internal temperature of 165 degrees is recommended. Be careful to safely discard all juice that may be remaining, as it contains bacteria.
Pork Chops – internal temperature of 160 degrees and not be pink in color. This is a U.S.D.A. guideline but may not be followed by many restaurants.
Pork Ribs – should have an internal temperature of 190 degrees.
Another safety measure with grilling includes not using marinades in which meat or fish have sat in unless you boil them for at least three or four minutes. Use a clean plate to remove cooked meat from the grill, not the same plate used to take the uncooked meat to the grill.
Clean your grill, prepare your meat, and enjoy this recipe (below) from Don Mauer, a renowned cook and the host of "Lean and Lovin' It."
Chinese –Style Barbecued Spare Ribs
Prep time: 20 minutes plus 90 minutes to bake in oven
Cook time: 20 minutes on the grill
2 full racks pork spareribs, brisket flap and chine bone removed
(about 6 lb. total)
1 1/2 cups water
1/2 cup granulated sugar
4 tsp. minced garlic
1 cup soy sauce
4 tsp. plus 2 TB. Hoisin sauce
Lift corner of membrane on back of ribs with knife. With a paper towel, pull off and discard. Cut racks in half along center bone.
Add water, soy sauce, sugar, garlic, and 4 tsp. hoisin sauce to reclosable, plastic bag large enough to hold ribs. Seal bag, shake until sugar dissolves. Place ribs in bag, push air out, seal. Refrigerate, turning occasionally, for 6 hours. Remove ribs from bag, reserving marinade. Pre-heat oven to 300 degrees.
Line oven-safe pan with foil. Place ribs in pan. Seal with more foil on top.
Bake 90 minutes. Pour reserved marinade and 2 Tbsp. hoisin sauce into saucepan.
Brush ribs with heated sauce. Cover and grill over med. heat 5 min. Turn ribs, brush with sauce. Cover and grill 5 min. Repeat once. Brush with sauce, before removing from grill. Serve, passing sauce.