County Commissioner Boand Weighs in on City of CPN
February 1, 2009
/
/
Comments Off

on County Commissioner Boand Weighs in on City of CPN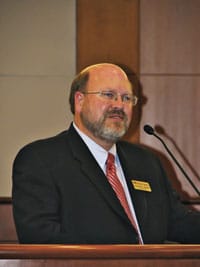 Douglas County Commissioner Steve Boand
(photo by Terri Wiebold)

by Lane Robers and Terri Wiebold
Douglas County Commissioner Steve Boand (pictured right) took the oath of office for a second term on January 13, as a commissioner in District II which includes the Castle Pines area.
Preceding the swearing-in ceremony, Commissioner Boand sat down with The Castle Pines Connection and shared his thoughts on the City of Castle Pines North and its future.
Since the incorporation of the city in 2007, the County has continued to provide services to the community. On February 12, Castle Pines North (CPN) will officially take the reins from Douglas County.
"The County is committed to the success of the new City of Castle Pines North," Boand said.
Boand, a former city council member and mayor of the Town of Castle Rock, knows firsthand of the challenges faced by growing Douglas County communities. "Cities do whatever they need to do in order to get sales tax revenue," he said.
A passionate advocate for transparency and accountability in government, Boand says he will continue to work to keep local government open to public participation and involvement. "You always want local government close to home," he said.
During the transition, City representatives will continue to work closely with Douglas County to establish intergovernmental agreements to ensure necessary services continue in the new city. The CPN City Council and the Board of Commissioners for Douglas County recently voted to enter into an intergovernmental agreement for snow removal management for CPN. With the new agreement, the County will continue to provide snow removal services from Feb. 13 to May 31, 2009.
Boand says the County will continue to work with City representatives to make sure the transition toward becoming an independent city runs smoothly.
"I know that if the city is not successful, we will be called upon to help; it is in everyone's best interest for the County to support them," said Boand. "We'd rather help them be successful.
Contact Douglas County Commissioner Steve Boand at 303-660-7418 or e-mail.