CPN Residents Welcome Wildlife Into their Backyard
May 1, 2004
/
/
Comments Off

on CPN Residents Welcome Wildlife Into their Backyard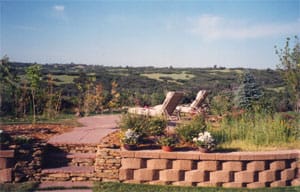 The word on the grapevine is that Ron and Marcia Cushing's property, located in Daniels Gate and backing to the Buffalo Preserve, is now recognized as an official National Wildlife Federation (NWF) Backyard Wildlife Habitat.
Their property attracts a variety of birds, butterflies and other wildlife such as deer, elk, coyotes, great-horned owls, fox, rabbits, and mice. "We see any number of animals and birds on a daily basis," said Ron.
Everything planted in their yard is either native to the region or is a drought-tolerant, non-invasive species: plus they have very little grass – – which makes their landscaping very water-conservative. "We spend an average of one hour per day maintaining our yard, and of course, we strictly adhere to the current watering restrictions," said Ron.
The Cushings had a head-start on developing their wildlife habitat, since their one-quarter acre property backs to a "football field's" amount of open space. The open space was already a habitat to numerous wildlife species before homes were ever built in the area.
The Cushings originally learned about how to turn their yard into an official "Backyard Wildlife Habitat" in a Rocky Mountain News article. They thought the idea fit their love for Colorado, and decided to pursue getting their own yard certified by the NWF.
"We are outdoorsy kind of people, and thought it was a good idea," said Ron. "We thoroughly enjoy watching animals eat, live, thrive, and not be threatened in our very own backyard."
With the help of the NWF, many habitat enthusiasts have turned their backyards into enticing wildlife refuges like the Cushing yard. "The program teaches the importance of environmental stewardship by providing basic guidelines for making landscapes more hospitable to wildlife," according to the NWF. More information from the NWF is available on the Internet at
http://www.nwf.org/backyardwildlifehabitat/.
If you are interested in seeing the Cushing property, they are planning an open house in the near future. Please e-mail Ron at RBCushing@MetroGroup.com, and he will alert you of the chosen date and time that visitors will be welcome.