CPN's Park Restrooms Completed – Lottery Pays the Bill
April 1, 2008
/
/
Comments Off

on CPN's Park Restrooms Completed – Lottery Pays the Bill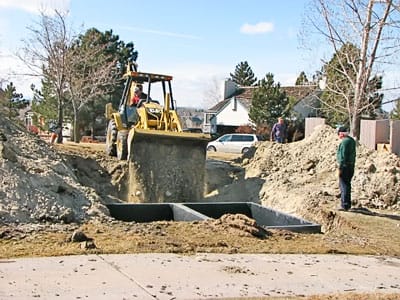 Crews work to install new "vault" restroom facilities at The Retreat Park in CPN. (photo by Terri Wiebold)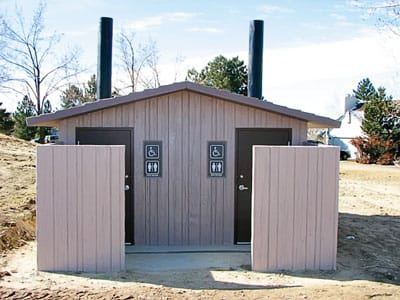 The completed restroom facility at The Retreat Park. (photo by Terri Wiebold)
by Terri Wiebold
The much-anticipated "vault" restroom facilities at The Retreat Park, Coyote Ridge Park, and Daniels Gate Park are installed and available for public use.
"This was a much needed amenity and will be a great addition to the parks in this community," said Metro District Parks and Open Space Manager Charlie Fagan.
Each new facility contains two unisex restrooms. Two below-the-surface vaults, each storing approximately 1,200 gallons of water, contain the waste from the unit. The vault chambers are sloped, vented and sealed from the elements to provide environmental security, and they are typically much more pleasant than the outhouses of old.
According to Fagan, frequency of usage will determine how often the vaults will need to be emptied; probably at least once a year. "We have already seen that these facilities are being utilized," said Fagan. "I think park users really appreciate the fact that there are restrooms at these parks. They are a nice step up from porta-potties."
The new restrooms will be open for use during normal park hours, and existing portable restroom facilities will still be available at the Skate Park and baseball fields at Coyote Ridge Park.
The CPN Metro District spent approximately $92,000 on the manufacturing, transportation, and installation of the new facilities. Fagan estimates that once landscaping and concrete work on the project are complete, the entire bill will be around $110,000 – all of which will be paid for in lottery dollars collected from the State of Colorado. "This entire project won't cost the taxpayers a single dollar," said Fagan.
Send parks questions to Contact by email or call 303-688-8550.