Heritage Professional Pet Grooming Salon Treatment for Pets
April 1, 2008
/
/
Comments Off

on Heritage Professional Pet Grooming Salon Treatment for Pets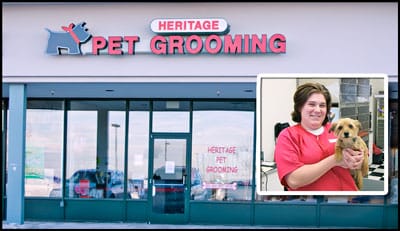 Article and photo by Terri Wiebold
Heritage Professional Pet Grooming is a full service pet salon, where pet grooming is considered an art and the stylists do the work for you. Whether bathing, brushing, clipping, styling, or simply pampering a pet, the staff at heritage Pet Grooming believes that humane and loving treatment is the most effective tool for grooming its four-legged clients, both dogs and cats.
Salon owner Vickie Zwart has been in the pet business for more than 20 years. She is an accomplished dog breeder and handler, and owns and works with many champion English Cocker Spaniels. She teaches grooming courses on a national level and holds a degree in Comprehensive All-Breed Grooming and Shop/Boarding Kennel Management from the Colorado School of Dog Grooming.
Zwart opened Heritage Professional Pet Grooming in Parker in May 2005, and grew her business to include the Castle Pines North location in June of 2007. She said she recognized a need for these services in this community and plans to be here for a while.
"I chose the name Heritage Professional Pet Grooming because I wanted something that would reflect my commitment to being in this business for a long time," said Zwart. "Pet grooming businesses come and go, but this is my life."
Zwart's long-term goals include "being the best pet care service in the world," she says. "We are committed to determining our clients' needs and wants, and we take personal responsibility to deliver that quality service in a fair, honest, and professional fashion."
For now, the next step is expanding the business to include a mobile, self-contained pet grooming salon. Zwart expects the mobile unit to be operational by the end of March.
Heritage Pet Grooming is open Tuesday through Saturday, 7:30 a.m. to 3:00 p.m. (with expanded hours coming soon), and is closed Sunday and Monday. Appointments are preferred, but walk-ins are always welcome. Visit www.heritagepet.com or call 303-663-4PET for more information, or just drop by the salon at 7280 Lagae Road (in the King Soopers shopping center.)