Daniel's Park Master Plan – Cooperative Agreement Reached
April 1, 2008
/
/
Comments Off

on Daniel's Park Master Plan – Cooperative Agreement Reached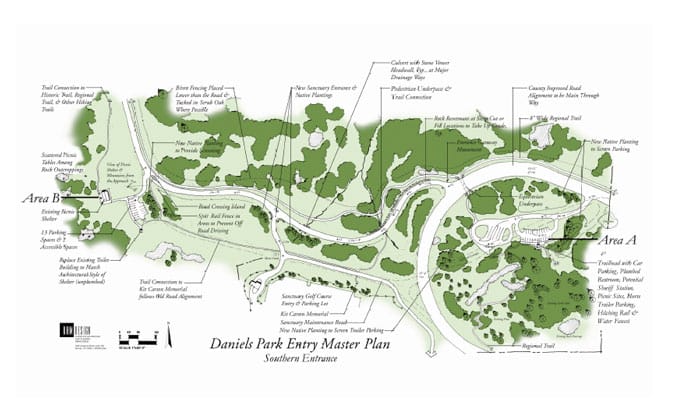 by Terri Wiebold
In late February, officials with Douglas County and the City and County of Denver finalized a cooperative agreement for implementation of the Master Plan for Daniel's Park. The 1000-acre historic park borders the City of Castle Pines North (CPN) to the west and is slated for renovations during the next 10 years.
Douglas County representatives met with the CPN community last September to preview its preliminary plans and to solicit input from residents. The park is of particular interest to CPN residents because any changes made to existing roads, trails or access points may have a direct impact on residents.
As part of the cooperative agreement, Douglas County will invest in roadway and regional trail improvements, including realignment and paving of Daniels Park Road to the north in such a way that it preserves the environment, controls the dust and surface runoff, and limits the speed on the road. The road will also be paved to the south to meet up with the existing paved portion of Daniels Park Road.
"We do not anticipate any significant traffic impact on Castle Pines [North] residents in terms of usage or the number of trips," said Douglas County Senior Development Review Engineer, Gary Walter. "The same people who are using the road now will continue to use it; only more safely."
Residents in the CPN community are most interested in a roundabout proposed at the crossroads of Daniels Park Road, Pine Ridge Lane, Buffalo Trail, and Castle Pines Parkway.
According to Walters, Douglas County will continue its preliminary plans for the roundabout, ensuring design features are not only safe and functional from a traffic standpoint, but that it is consistent with the feel of the rest of the surrounding community. Walters has already met with community leaders to discuss the wants and desires of the CPN community.
"It is exciting that we have begun working collaboratively with the County on this roundabout design leading into Castle Pines North from the west, which until now left little to be desired," said Castle Pines North Mayor Maureen Shul. "With the proposed renovations coming to Daniel's Park, this is our opportunity to make this gateway to our new city something special and unique."
For additional information, go to www.douglas.co.us/danielspark.