Curiosity is catching at BRE science fair
May 1, 2013
/
/
Comments Off

on Curiosity is catching at BRE science fair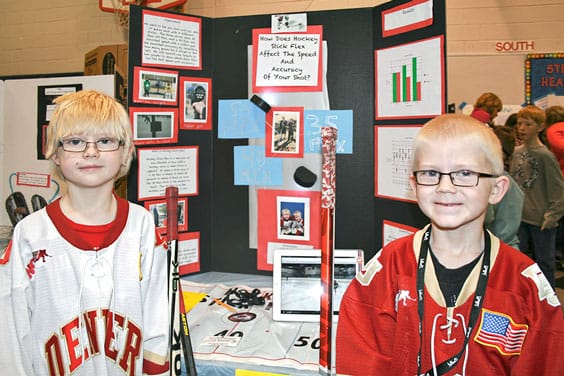 Two hockey-loving brothers, Cai and Cooper, took part in BRE's Mission: Curiosity. They explored how the flex of a hockey stick affected the accuracy of the puck. Ultimately, Cai selected a new stick based on the results.
Article and photo by Elean Gersack
Being curious is the spark for imagination and wonder. As the Italian physicist, Galileo Galilei said, "All truths are easy to understand once they are discovered; the point is to discover them."
Students at Buffalo Ridge Elementary School (BRE) have been busy asking "why" and "how" while exploring what makes them curious. On April 19, more than 60 projects created by 100 students were on display for the school's second annual science inquiry fair – Mission: Curiosity.
Budding scientists from first through fifth grade explored questions about jellyfish migration, food sources as energy, the drag of swimming, and what's in a brand name, just to name a few. Using the scientific method, participants created hypotheses, collected data, made observations, drew conclusions, and documented each aspect of their experiment.
Four locally-famous judges were on hand to listen and learn and offer encouragement and enthusiasm to students: Andy Abner, principal of Rock Canyon High School; Cameron Randolph, seventh grade science teacher at Rocky Heights Middle School; Pat McGraw, development and innovation officer for Douglas County School District; and John Paull, children's author, science consultant, and teacher. "This was awesome, really fun, both as a feeder principal and as a dad. I was so impressed with these kids being able to talk with the four of us about their projects," said Abner.
Leading up to the fair, many students took part in monthly after-school science sessions led by experts in rockets, rocks, and physics in the school's new Mission: STEM after-school program. The interest was so great, additional classes were added to accommodate as many students as possible.
Jeannine West, fifth grade teacher at BRE, is passionate about science and has been instrumental as a teacher advisor for Mission: STEM and Mission: Curiosity. "Science experiences foster a culture of inquiry and collaboration that honors and celebrates curiosity, something that comes naturally to kids! Through these kinds of learning experiences, students develop skills, processes, and dispositions to solve problems, and that learning is relevant to [their] "real worlds," shared West.
Curiosity has most certainly caught on at BRE and there is no stopping it now!