Collectible jewelry showcased at Castle Pines Jewelers
May 1, 2013
/
/
Comments Off

on Collectible jewelry showcased at Castle Pines Jewelers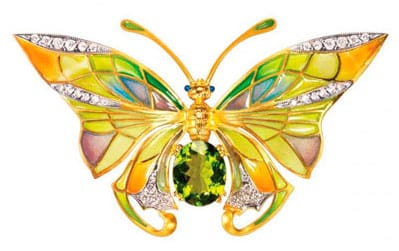 By Amy Shanahan
Castle Pines Jewelers is excited to welcome factory representatives from the Masriera jewelry factory in Barcelona, Spain, for a one-day trunk show and open house. On Friday, May 10 from noon to 6 p.m., the store will showcase this exquisite line of custom-made jewelry. Wine and hors d'oeuvres will be served, and all Masriera jewelry will be 10 to 15 percent off.
The House of Masriera was founded more than 200 years ago in Barcelona, Spain by the artist Lluis Masriera. The jewelry is still made from the original steel molds and features designs inspired by fantasy and nature that were prevalent in the Art Nouveau movement. Each piece is created by master craftsmen who combine jewels and precious metals with various enamel techniques that require a multi-step process of repeated layering and firing of enamel in intense heat. The results are beautiful, ethereal works of art.
Castle Pines Jewelers began carrying the Masriera line of jewelry eight years ago when owner and jewelry designer Jeffrey Rein was convinced by his wife and daughter that it would be a good addition to their store. According to Rein's daughter Lacee, "It is a line that people collect and it shows the true art form of the art nouveau/art deco period in which it was created." The line has been a success for the jewelry store, as each piece is created by hand, and is stamped and numbered. "Collectors appreciate the rareness of each piece," remarked Lacee.
To preview the collection and to meet the factory representatives from Barcelona, stop by on Friday May 10. Castle Pines Jewelers is located in The Village at Castle Pines, 880 Happy Canyon Road, suite 120.