Making memories and more with Quilts Galore
May 1, 2013
/
/
Comments Off

on Making memories and more with Quilts Galore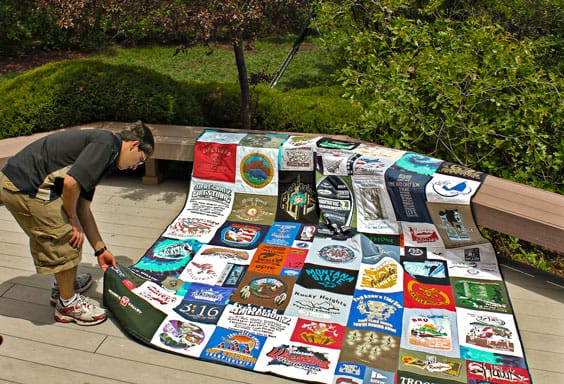 A favorite t-shirt collection was made into a custom quilt by Tami DiPasquale.
By Elizabeth Wood West; photos courtesy of Brian Stopps
At the young age of seven, Happy Canyon resident Tami DiPasquale took her first steps toward becoming a renowned master quilter by learning how to sew in a 4-H program.
"It made my sewing machine my best friend," said DiPasquale. "I started hand-quilting in 1994 through many telephone conversations with my grandmother. In 1995, I started teaching hand quilting at Castle Rock's first quilt shop. Customers came and asked me to quilt for them by hand and machine." DiPasquale worked for Holly's Quilt Shop for ten years and has taught quilting at Windsor Gardens since 2006.
DiPasquale entered one of her quilts in the Best Machine-Quilted Quilt competition at the 1997 Douglas County Fair and won a blue ribbon and a $25 prize. Since then, she has studied textiles and patterns for years and her quilts can be found all over the world, including the United Kingdom, Germany, Australia, Brazil, and throughout the United States. DiPasquale's business, Quilts Galore, is based in a studio at her home.
DiPasquale may spend a day, a few weeks, or as long as a year to create and complete a quilt for her customers, depending on the pattern, detail, and mix of fabrics. "The most interesting quilts for me are the ones that the customer says 'Do your magic' or by using unusual fabrics or textures," said DiPasquale.
Castle Pines resident Brian Stopps has two custom quilts created by DiPasquale. One quilt was a Christmas gift for his wife and was made with his two sons' baby and toddler clothes. The other quilt was a gift to his oldest son, made from the boy's favorite t-shirt collection. Stopps said, "I had gotten the quilt idea from a magazine 10-15 years ago and set aside meaningful clothes and outfits over the years. Tami exceeded my expectations and they turned out great! The pressure will really be on Tami soon, when I present her with my second son's stack of t-shirts. He graduates next spring and I have every confidence that this project will turn out just as beautiful and every bit as memorable as the first two quilts," said Stopps.
For additional information, contact DiPasquale at 303-660-4000.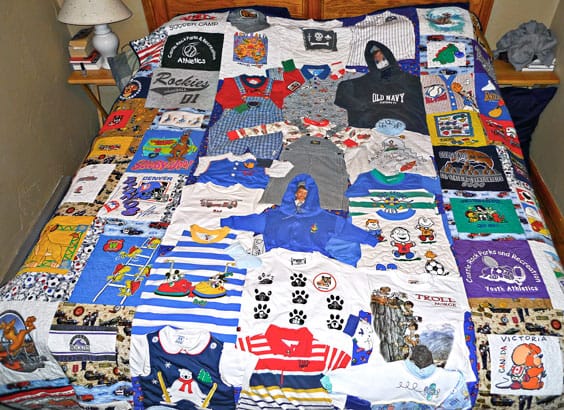 Tami DiPasquale created a custom quilt made with baby and toddler clothes.