Dads and dudes take the field
May 1, 2019
/
/
Comments Off

on Dads and dudes take the field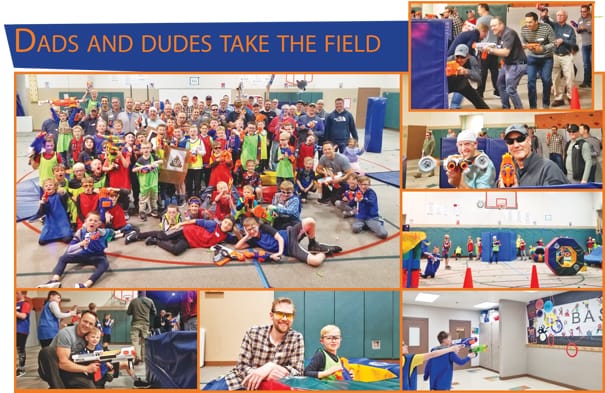 Article and photos by Julie Matuszewski
Nerf junkies young and old took the field armed with their favorite Nerf guns, eye protection and unlimited foam darts for a night of Dads and Dudes Nerf Wars. In one afternoon, the Timber Trail Elementary (TTE) gym was transformed in to a Nerf warrior's dream of obstacles, barricades and shooting galleries.
Timber Trail Education Alliance (TTEA) sponsored this first-time event for all grade level boys and their dads. The idea of this event was to provide a fun activity for the boys and dads but to also give the dads an opportunity to socialize with fellow dads within the TTE community.
Following the play-it-safe rules, these mighty Nerf warriors took the field for 90 minutes of Nerf fun. The battle zone was set up to challenge each team and individual warrior as they maneuvered their way through obstacles and barricades of exercise mats, step benches and padded barrels to keep themselves in the game. Multiple rounds of total elimination, primary play and capture the flag were played in seven-minute increments. Each round included teams of dads and dudes, as well as dudes against dads. Dudes against dads was favored and the dudes dominated the field.
Tyler Foe and his son, Dylan, said it was an evening of nonstop fun. Fun it was, with energy high throughout the evening as the current hits from Party Pro DJ echoed through the battle zone. Big wins and victories could be heard down the school halls as teams sang along with old time favorites of "Survivor" and the theme song to "Rocky."
To keep these warriors sharp, quick and alert, they honed their shooting skills with several targets including swinging targets at the shooting gallery. As the war came to an end, these tired dudes and dads cooled off with root beer floats and new friendships to last a lifetime!