Inclusive playground dedication
May 1, 2019
/
/
Comments Off

on Inclusive playground dedication
Representatives from the Castle Pines Parks Authority, the Castle Pines North Metropolitan District, the City of Castle Pines, Douglas County Parks, Trails & Building Grounds and students and teachers from TTE all gathered to celebrate (and try out) the new inclusive playground equipment.


By Terri Wiebold; photos by Julie Matuszewski
Braving unexpected cold weather, third graders from Timber Trail Elementary (TTE), along with their teacher Michelle McCluskey and members from the Castle Pines City Council, the Castle Pines Parks Authority, the Castle Pines North Metropolitan District (CPNMD) and Douglas County Parks, Trails & Building Grounds gathered on April 13 for a ribbon cutting ceremony to dedicate a special piece of playground equipment at Coyote Ridge Park.
The third grade classes at TTE (more than 60 students) were given the task to become playground engineers in order to make adjustments to a play space that met the specific needs of children with autism. In addition to learning about autism, the students had the opportunity to conduct research while completing an obstacle course that challenged their senses as they engaged in different movements. "Through this experience, students learned that one in 68 people have autism, as well as what autism is, and how the needs of people with autism differ," stated McCluskey. "This encouraged the kids to think about sensory benefits and how input varies for individuals, especially on the playground."
McClusky's class presented its findings along with three equipment options to the CPNMD and the Castle Pines Parks Authority, who authorized the purchase and installation of the $27,179 Eclipse Net Climber play structure. The net climber is specifically designed to support the development of sensory, motor, cognitive and social/emotional skills for children. The different developmental components provide new experiences for children each time they play on the structure, depending upon their readiness for skills.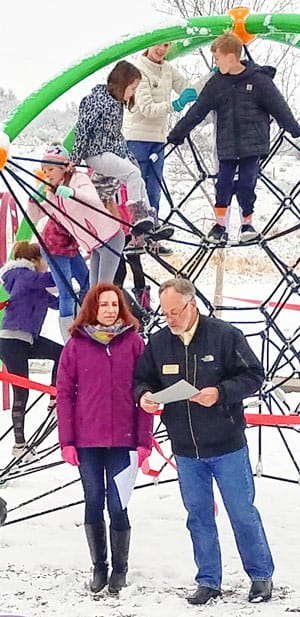 Mayor Tera Radloff (left) and CPNMD Manager Jim Worley (right) spoke to residents during the ribbon cutting at Coyote Ridge Park.

"Having an opportunity to enrich the lives of people with developmental disabilities and their families is a subject near and dear to my heart," stated Castle Pines North Metropolitan District Manager Jim Worley. "Your collective vision for improving our community and providing recreational opportunities for all Castle Pines residents, including children on the autism spectrum, is inspirational," he said of the TTE students.
Mayor Radloff added, "We thank the great Timber Trail students and their teachers for coming forward and making this idea a reality. We encourage all residents to let us know what they want to see in our great outdoors!"
This is the second year that the third graders at TTE have partnered with the city. "We are very proud of the contribution the kids are making to their community!