Daniels Park Upgrade Encounters Delays
August 1, 2008
/
/
Comments Off

on Daniels Park Upgrade Encounters Delays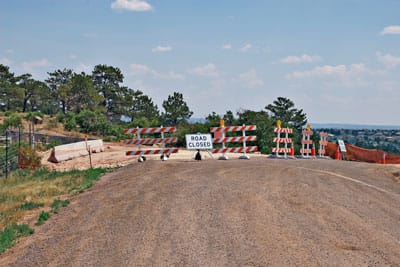 by Terri Wiebold
Work continues on the upgrades to Daniels Park, including "Phase I" plans to pave the southern portion of the existing Daniel's Park Road.
Xcel Energy is currently in the process of lowering gas lines in the area, a task proving more challenging than originally anticipated, according to Douglas County Senior Development Review Engineer Gary Walter.
"Xcel is excavating to lower two very large high-pressure gas lines in the area," said Walter. "They are running into a lot of well-cemented sandstone, causing delays."
The rock in the area is very hard and dense, and once Xcel finishes the site they are working on right now, the rest will go much faster, explained Walter. "We hope to sculpt it [the rock] to make the area look natural," Walter said, even exploring blasting as an option. "The remaining rock will be stained to look weathered and more natural than just cutting into the mountain side."
Douglas County is responsible for planning and funding Phase I of the project, encompassing everything south and east of the existing shelter house.
Prior to the delays, Douglas County expected to begin digging and building the road by mid-July. Road closures in the area are now expected to continue through the end of the year, according to Walter, with a small window of time to re-open between when Xcel finishes its work and Douglas County begins.
The city of Castle Pines North developed a committee to work with Douglas County and the city of Denver on the project. The committee held a community meeting in July to discuss the plans and to solicit feedback from residents on the plans for Phase I.
Of particular interest to those in attendance was the planned roundabout at the intersection of Castle Pines Parkway and Buffalo Trail.
Prior to the meeting, Douglas County spray-painted an outline in orange of the location of the roundabout at the proposed site for residents to review.
According to committee member Barbara Saenger, Douglas County will build the structure of the roundabout, but it is the city of Castle Pines North that will be responsible for the infrastructure, including water and electricity to the roundabout. Landscaping is also the city's responsibility.
"This roundabout will serve as a nice transition point from the park into the residential areas of Castle Pines North," said Saenger. "It will be an entrance into our community."
For now, the city's committee will continue to work with Douglas County, the CPN Metro District, and residents to make the roundabout a gateway into the back door of the city that residents can be proud of.
Anyone interested in participating in the committee can contact city council member Kim Hoffman at Contact by email or Barbara Saenger at Contact by email .
Learn more about the entire Daniels Park project at www.douglas.co.us/danielspark/index.html.