Construction at The Crossings Continues
August 1, 2008
/
/
Comments Off

on Construction at The Crossings Continues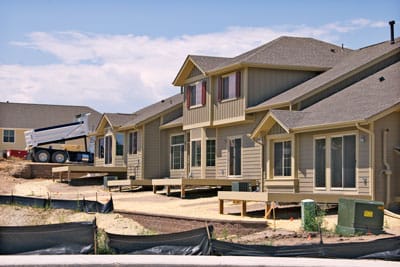 by Lisa Crockett
Construction of 20 patio homes and 27 town homes at Village Homes "The Crossings" continues this summer near Monarch Boulevard just north of Castle Pines Parkway next to Stonecroft. A sprinkling of "for sale" and "sold" signs dot Castle Pines North's (CPN) newest neighborhood. Construction is expected to be completed in mid-2009.
Construction on the commercial portion of the site, which is located at the corner of Castle Pines Parkway and Monarch Boulevard, however, has stalled in the wake of last year's library election loss.
Other businesses were planning to build on this parcel contingent upon the building of a new library. Since the library was planned as the "anchor tenant" for the development, Village Homes has opted to wait until this fall's election is complete to determine if changes to its plans are necessary.
If the library mill levy passes in this November's election, it is likely that CPN library patrons could be checking out books and materials as soon as fall of 2009.
Watch for updates related to this development at www.cpnhoa.org or by community e-mail.