DCS Montessori celebrates with an international tea party
April 1, 2017
/
/
Comments Off

on DCS Montessori celebrates with an international tea party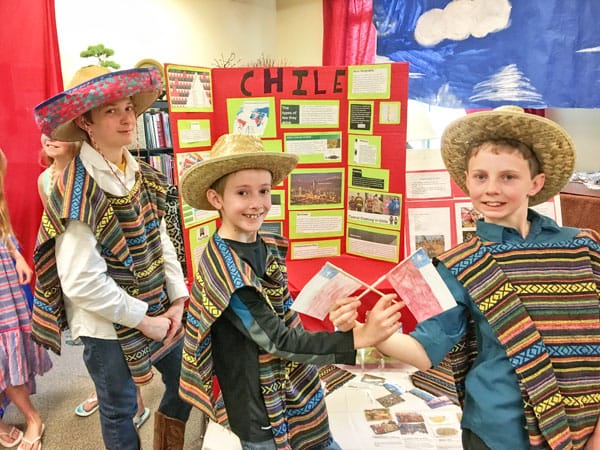 Matthew Reljanovic, Broady Bowers and Trevor Venable represent Chile at DCS Montessori's fourth annual international tea. Presentations covered government, culture, population and climate, and, of course, tea.

By Lynne Marsala Basche; photo courtesy of DCS Montessori
DCS Montessori students had the opportunity to participate in a festive tea celebration when teacher (and Castle Pines resident) Ryoko Fusatani hosted her fourth annual international tea party in late February. This year's tea showcased countries from South Africa.
Fusatani began the annual event when she wanted to share the 400-year-old tradition of Urasenke, which is one of the main schools of the Japanese tea ceremony and means "way of tea." Fusatani practiced this ceremony with her tea master in Osaka, Japan, and the tradition focuses on simplicity and providing inner peace through sipping a bowl of tea with guests in the simplest and most humble of settings.
Fusatani combined the Urasenke philosophy of hospitality with the 21st-century skills lessons of critical thinking, collaboration, creativity and communication. As part of the project, students chose a country and researched their government system, population, climate, tea culture, artifacts and more. Students prepared tea and light snacks, as well as dressed in clothing that depicted what the native people wore in each country. Other students, teachers, and parents were also treated to presentations and speeches about each selected country.
The international tea tradition is much-loved and is a creative way to incorporate learning objectives with engaging interactive experiences.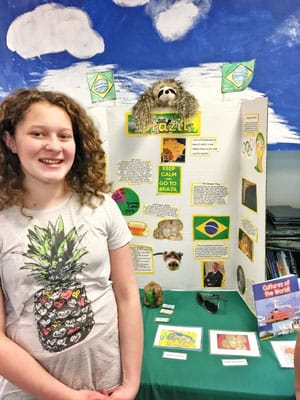 Gabrielle Goodwin enjoyed learning about Brazil and sharing her knowledge with fellow students and teachers at DCS Montessori's annual international tea.