DCS Montessori middle school students get a lesson in futsal
February 1, 2019
/
/
Comments Off

on DCS Montessori middle school students get a lesson in futsal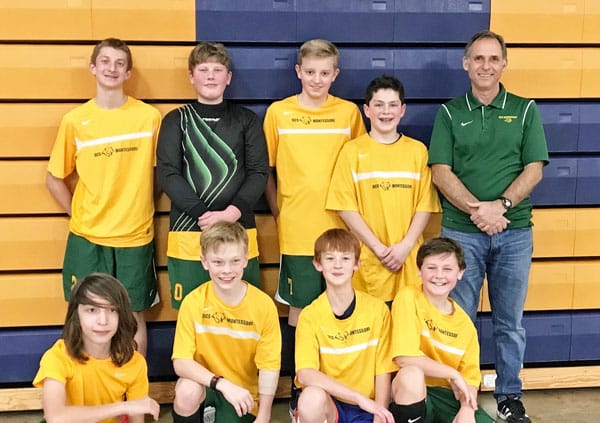 Team captain Matthew Reljanovic (black jersey), along with coach Mike Catalano (top right) and the DCS Montessori Cougars proudly wear their school colors of green and gold when competing in the sport of futsal.
By Julie Matuszewski; photo courtesy of DCS Montessori
Are you ready for some futsal?! Yes, futsal, not to be confused with football. Futsal is an indoor soccer event with five versus five players, including a goalkeeper on a 3m wide x 2m high goal. The field size is 102' x 58' with no walls on the gym floor.
The players in futsal are more likely to develop their foot skills without relying on a wall for support. The DCS Montessori (DCSM) middle school Cougars were up for the challenge as they attended the 26th Annual Winter Indoor Classic Futsal Tournament held at Regis University. Proudly wearing school colors of green and gold, the students took their respective places on the field for a full day tournament with 75 Denver area teams across various age groups for both boys and girls.
Futsal is a very popular game in South America because of its emphasis on decision making and ball skills. Team captain Matthew Reljanovic said, "The tournament was great fun and an excellent opportunity to play as a team and with friends. We practiced teamwork and good sportsmanship."
While futsal is not a common sport for a school team, DCSM was excited to participate in this extra-curricular activity. Many competitive soccer clubs offer futsal in the winter. Some DCSM students play futsal with their soccer clubs and some of the students participated for the first time. Participation in the tournament was voluntary and all the students were seventh- and eighth-graders.
Fueled from stadium favorites of hot dogs, popcorn and sodas, the Cougars conquered the field with six total matches and the clock continuously running 25 minutes for two periods. It was a full day for the DCSM Cougars. The games were tough, and though they did not win any matches, they played like champions and demonstrated sportsmanship and skill.
The Cougars plan to participate in the annual indoor classic again next winter. Go Cougars!