Then and Now…Castle Pines Chamber of Commerce
February 1, 2019
/
/
Comments Off

on Then and Now…Castle Pines Chamber of Commerce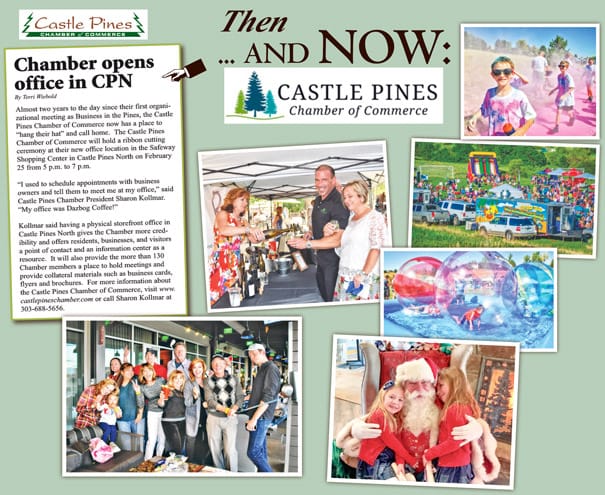 Many events are sponsored by the Castle Pines Chamber of Commerce, among them Food Truck Frenzy, Run Wild, Vino in the Village and the Holly Jolly Brunch with Santa at The Ridge at Castle Pines North.
By Patte Smith; photos by Lynn Zahorik
"The Castle Pines Chamber of Commerce (CPCC), established in 2008, has changed significantly over the past 10 years as the city has grown and changed," explained Executive Director Amy Shanahan. "Our membership has doubled during the past three years – close to 400 members, the staff has increased from two to four individuals and we moved to a new location."
Giving kudos to original organizers Sharon Kollmar and Carla Kenny, Shanahan noted that the solid reputation these ladies built of being welcoming and friendly while offering value and commitment to members, holds strong today. "Those standards still drive the CPCC – connecting our members with one another and with our larger community."
The Chamber's Business After Hours and Business Over Breakfast programs for members continue to be a success, as well as the Engage Speaker series for residents that began in 2014. New programs such as Lunch and Learn, New Member Mixer and free social media training for members to learn skills are now offered, and for the past two years the chamber has hosted a special event on Colorado Gives Day that highlights nonprofit organizations.
Community events are a key highlight of the Chamber's offerings and they keep getting bigger and better. Business member booths at the events offer residents the chance to get familiar with chamber members and neighborhood businesses, while enjoying entertainment together.
In 2018, more than 3,000 families and friends gathered for Food Truck Frenzy to enjoy live music and nosh on good grub. Party in the Park attracted approximately 4,000 people who came together for an evening of food and drinks, kid's attractions and an amazing fireworks display put on by the City of Castle Pines. Other annual favorites are in the works for 2019 – Vino in the Village, Birdies, Bogies and Business, Run Wild, Trick or Treat Street and Holly Jolly Brunch.
For more information about membership or events, visit www.castlepineschamber.com.