Then and Now…David Weaver
February 1, 2019
/
/
Comments Off

on Then and Now…David Weaver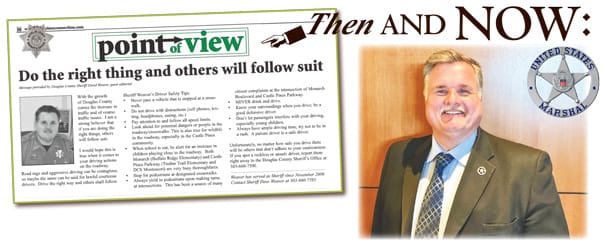 From his early beginnings as a deputy with the Douglas County Sheriff's Office, to sheriff, to county commissioner, to Colorado U.S. Marshal, David Weaver has spent his career in public service.
By Catalin Varela; photo by Terri Wiebold
In the inaugural issue of The Castle Pines Connection published in February 2009, David Weaver (then Douglas County sheriff) wrote a guest editorial piece titled "Do the right thing and others will follow suit" about the importance of safe driving.
For the past 10 years, Weaver has continued to make a positive impact and has served the Douglas County area in multiple capacities. Weaver served as Douglas County sheriff from November 2006 to July 2014, when he was sworn in as Douglas County Commissioner, which he viewed as an honor and another way to serve the community. Weaver left the seat as Douglas County Commissioner in April 2018 to accept the position as U.S. Marshal for the District of Colorado, which he was appointed to by President Donald Trump.
Weaver mentioned that his heart has been in law enforcement since he was a child, and he considers himself very service-minded. He stated that in every position he has held, his question has always been, "How can I better serve the community?" His incredibly caring approach to law enforcement is displayed even further when he stated, "It is never my job to judge. It is my job to get the people who are struggling off the streets to protect everyone."
Weaver said receiving the job of U.S. Marshal was a long process, taking 16 months of background investigation after submitting his resume. The U.S. Marshal Service was formed by the Judiciary Act of 1789 during George Washington's presidency, making it the oldest federal law enforcement agency in the nation. U.S. Marshals have a very broad scope of duties, and it is because of this that Weaver said he is very grateful for the partnerships and team work between all U.S. Marshals. He is looking forward to what the future holds and to continuing to create a safe community for his children and grandchildren to grow up in.