DCS Montessori students launch into space
April 1, 2009
/
/
Comments Off

on DCS Montessori students launch into space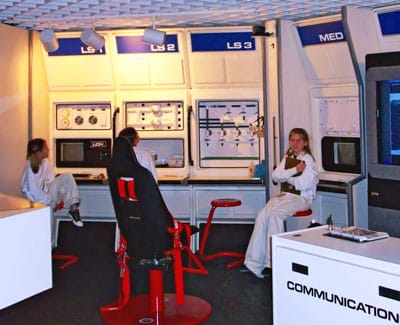 DCS Montessori students on a Mission at the Challenger Learning Center of Colorado. (Photo by Lisa Maas)
by Tracy Dudley
All upper elementary students from DCS Montessori recently participated in a space mission "Return to the Moon." The simulated trip into space took place at the Challenger Learning Center of Colorado in Colorado Springs (www.clccs.org).
Preparation for the mission was a very involved process. DCS Montessori teachers visited the Challenger Learning Center in advance for a full day of training. This included on-site mission simulation, instruction, and classroom materials for a six-week integrated curriculum to prepare students for their trip.
The integrated curriculum associated with the program spans many areas of study, including math, science, technology, geology, biology, physics, chemistry, and language. In the DCS Montessori science lab, students participated in many hands-on activities in preparation for the mission, such as building biomes, diagramming phases of the moon, and experimenting with the effects of meteor impacts on Earth.
"This program fits in nicely with the Montessori philosophy, where students are encouraged to develop a lifelong love of learning through active involvement with the environment," said Glenn Albert, a long-time upper elementary instructor for DCS Montessori.
As part of mission preparation, students had to apply for various job positions. Teachers then selected students based on how well their personalities and characteristics matched up to attributes required for jobs in areas such as communications, data, navigation, and medical. Crews were either placed in the spacecraft itself or back at mission control. Student cooperation and teamwork were key to successful completion of missions.
The mission's focus on technology and science blends in perfectly with the school's continued dedication to state-of-the-art education. With a recent sizable grant to DCS Montessori, the school has created some impressive resources.
The new science lab at the school boasts 17 microscopes, three telescopes, a life-size human anatomy model, and a large variety of other science experiment supplies.
"I have dreamed of a science lab at DCS for more than six years, and now it's become a reality. We truly are a 21st century Montessori," said Albert, who has been instrumental in procuring equipment for the science lab.
With funds from the grant, DCS Montessori has also brought in some extensive equipment for their technology lab. According to technology instructor Lisa Maas, the lab now has an instructor's workstation and laptop, 22 Dell workstations, LaserJet printers, microphones, digital cameras, a video camera, and a webcam. A brand new SMART Board interactive whiteboard just arrived, and the school plans to add a pod of iMac stations to facilitate collaborative work with art and music classes.
"We believe a Montessori education infused with 21st century technology will enable our students to enrich the world through positive and substantial contributions in their chosen endeavors," said Maas.
To learn more about the DCS Montessori Charter School in Castle Pines North, visit: www.dcsmontessori.org.