DCSM and BRE take some interesting expeditions Google style
May 1, 2016
/
/
Comments Off

on DCSM and BRE take some interesting expeditions Google style
DCSM teacher Paul Brannberg took his class to the Great Barrier Reef where they saw sea turtles, coral, schools of fish, and even sharks as part of their study of Australia.

By Kathy Fallert; photos courtesy of DCSM
Would you like to take a trip somewhere you've never been before? How about the Great Wall of China, Mount Everest, or even a trip under the ocean? Google Expeditions Pioneer Program is a new product that allows teachers to take their classes on virtual field trips to more than one hundred places all over the globe. DCS Montessori (DCSM) along with Buffalo Ridge Elementary (BRE) recently did just that.
March 29 at DCSM and March 31 at BRE proved to be exciting adventures for elementary and middle school aged kids as they dove into virtual travel right from their schools. The trips are comprised of collections of virtual reality panoramas taken in 360 degree photo spheres annotated with details and points of interest.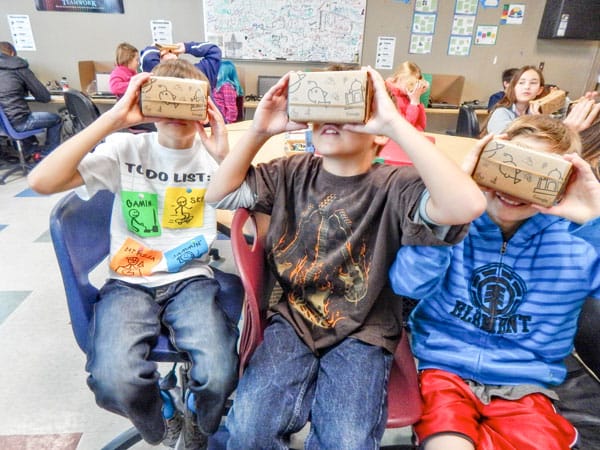 Students enjoyed some exciting destinations through the Google Expeditions Pioneer Program, including the Roman Coliseum and the Great Wall of China.
The expeditions kit all fits into a box which contains a tablet for the teacher and cardboard viewers and phones for each student. Once the teacher selects a destination, the class jumps to that location automatically. The viewers allow students to view not only the full 360 degree view side to side by moving their bodies, but they can also look up or down and see what's above or below them.
Winter Berry resident and DCSM student Charlie Strother remarked, "The Google Expedition gave me an amazing sense of the world around me right in our technology lab. We visited an underwater cave with scuba divers. We also visited the Great Wall of China and The Roman Coliseum. It was totally awesome!"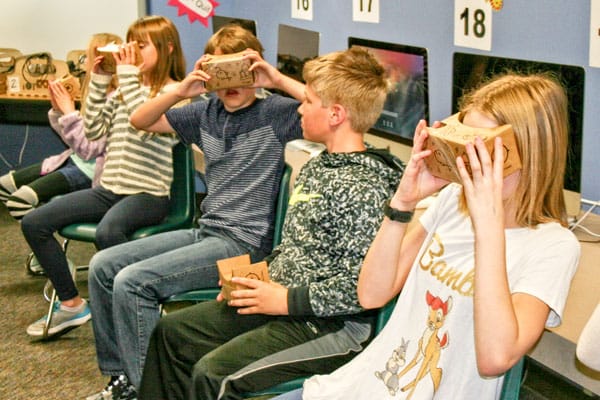 BRE fifth grade students trekked to Independence Square, Ben Franklin's house, and even a quick trip to Mount Everest.
BRE students enjoyed a variety of locations as well, including Independence Square, Mount Everest, and even an underwater research station in Australia. BRE technology instructor Monica Harmon commented, "By being able to travel to locations students normally would not be able to visit during a school day, Google Expeditions provided an engaging and enriching learning experience for the students at BRE. Students loved the opportunity to use this innovative product as a new way to learn!"
DCSM technology teacher Maria Hannigan had this to say about the experience: "Our day with Google Expeditions was everything I had hoped and more. It is amazingly intuitive, both teachers and students were off and running to destinations across the globe within seconds."
To learn more about the new and exciting Google Expeditions Pioneer Program, visit www.google.com/edu/expeditions.