American Academy students become waste wise
May 1, 2016
/
/
Comments Off

on American Academy students become waste wise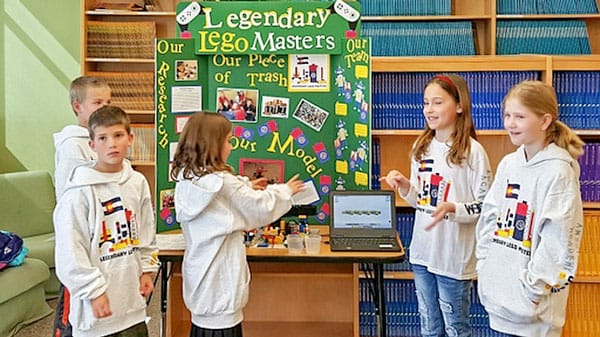 The AA Legendary LEGO Masters picked batteries as their piece of trash. They wanted to show everyone the importance of recycling batteries and not letting them end up in our landfills.

By Lynne Marsala Basche; photos courtesy of American Academy
In early April, the American Academy (AA) FIRST (For Inspiration and Recognition of Science and Technology) LEGO League Jr. members participated in the 2015-2016 Waste Wise Challenge along with more than 34,000 children from across the world. There is no doubt that this experience caused students to look at trash in a new light.
The regional expo was hosted by AA and included 13 teams. Four teams were from AA's Castle Pines campus, seven teams were from the Parker campus, and the remaining six teams were from surrounding schools. The second and third-grade teams were tasked with learning about reducing, reusing and recycling waste with the focus on a single piece of trash.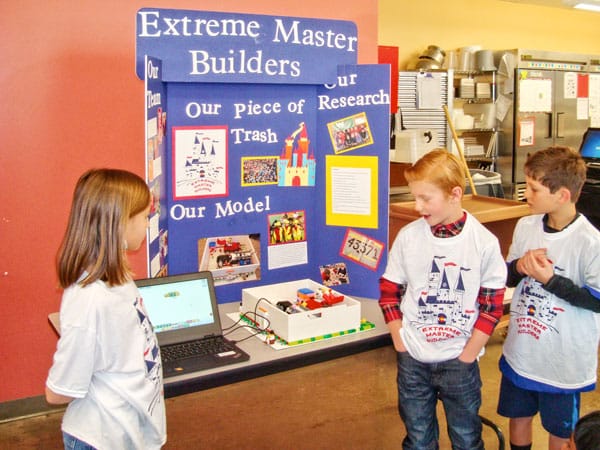 The AA Master Builders show off everything that they learned. This team picked aluminum cans as their piece of trash and discovered the importance of recycling aluminum cans. Their model represents a recycling factory where people can take their aluminum cans.
Teams worked together to decide on their piece of garbage, research the item, build a model with a simple machine using LEGO parts, and create a poster and present their project and findings to reviewers. Teams creatively addressed waste that included batteries, bottles, plastic and more. One team researched how to keep leftover wood out of landfills by repurposing it. They learned that treated lumber is fine for building a tree house, but it cannot be used to construct a dog house due to the dangerous chemicals. This team ultimately built a tree house model and even incorporated using renewable energy into the plan.
"I absolutely LOVE coaching FIRST LEGO League Jr.!," said Julie Weiss, lead instructor, STEM. "It is so incredible to start the season with these young creative minds, give them a FIRST challenge, and then see them work together as a team. These kids learn about real science issues that we face in our world in a fun and engaging way. The innovative ways in which the kids solve problems never ceases to amaze me."
The students were engaged and enthusiastic throughout their projects. "I liked working as a team to find solutions to a problem," said third grader Jackson A. "I also liked coming up with ideas to help the environment."
The FIRST LEGO League Jr. Expo showcased student's creative accomplishments while teaching them about real-world problems and how to find solutions. These students are definitely on their way to becoming waste wise!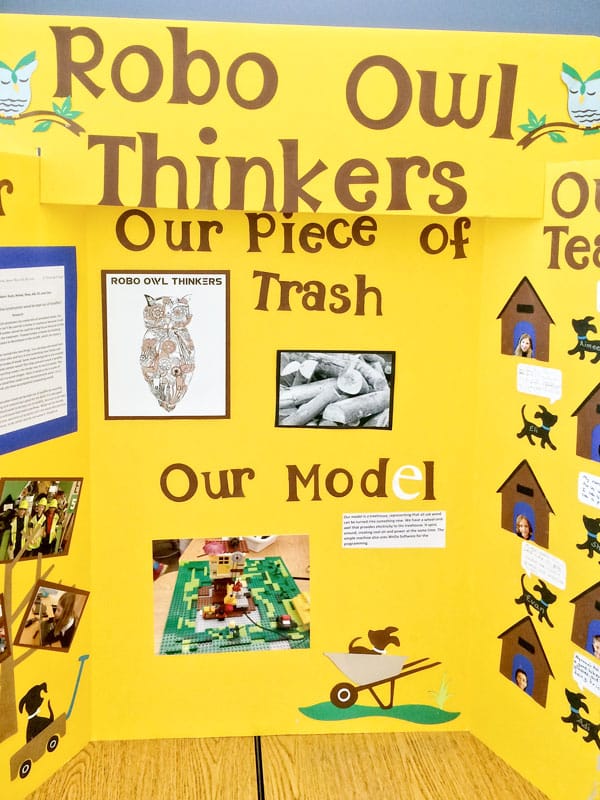 The AA Robo Owl Thinkers worked hard to come up with a solution for construction waste. They decided on a wonderful way to recycle untreated building lumber by making tree houses and dog houses.