C-470 express lane toll project to ease highway congestion
May 1, 2016
/
/
Comments Off

on C-470 express lane toll project to ease highway congestion

Increased congestion, particularly during the commute hours, will soon be relieved with the construction of several tolled express lanes along C-470.

By Patte Smith
The Colorado Department of Transportation (CDOT) is moving forward with plans for the C-470 tolled express lanes construction, by adding two tolled express lanes westbound on C470 from I-25 to Colorado Boulevard, and one tolled express lane between Colorado Boulevard and Wadsworth westbound. There will be one tolled express lane eastbound from Platte Canyon Road to I-25, with a tentative aim to extend the tolled express lanes in each direction to Kipling. Painted pavement buffers will separate the tolled lanes from the non-tolled lanes.
With more than 100,000 motorists currently using these segments of C-470 each day, and volumes projected to increase 40 percent by 2035, the much-needed project has been in the planning stages for several years. "The traveling public has asked CDOT to relieve congestion within this critical corridor and the team is beyond enthused to be well positioned to begin delivery," said CDOT Project Director Jerome Estes. "We are striving to minimize impacts to the traveling public during project construction."
Megan Castle, communications manager for CDOT explained that "C-470 will not be a tolled road as E-470, but will offer choices to motorists on how they move through traffic by using express lanes that offer reliable travel times on this corridor. There will not be a carpool/HOV option in any lane — all users will pay a toll when using express lanes."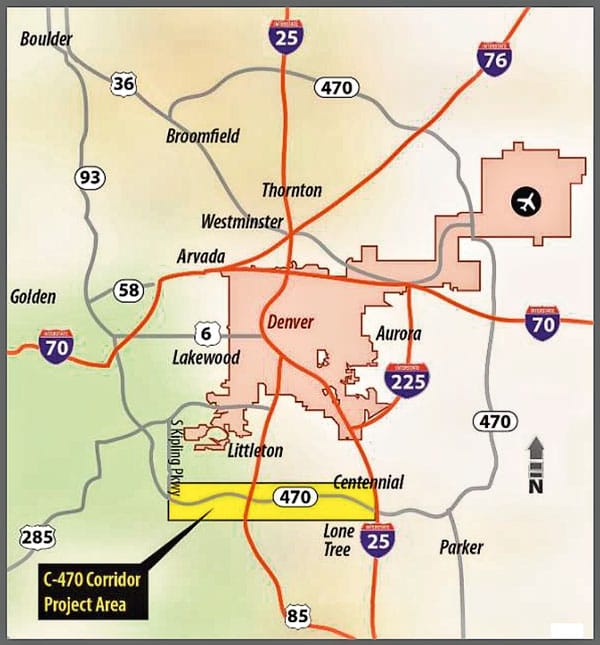 Map shows the corridor of C-470 where the express lanes will be constructed. Detail of the lanes is not shown on the map.
Additionally, the scope of the project includes safety and operational improvements between I-25 and Quebec by adding direct-connect ramps from I-25 to the C-470 tolled express lanes, and reconstruction of a portion of the existing pavement. Auxiliary lanes at selected locations will be added, and portions of on-ramps and off-ramps will be improved. Bridges over the South Platte River will be replaced and other bridges widened. Noise barriers where required will be installed and grade separations for the multi-use trail at Quebec and Colorado will be added.
Construction of the $215 million C-470 project is anticipated to begin this summer and is projected to be complete in the spring of 2019. The project is funded by CDOT RAMP funds of $100 million, and $10 million from local communities. The project will leverage toll revenues to borrow $200 million that consist of a $100 million Transportation Infrastructure Finance and Innovation Act (TIFIA) loan and $100 million revenue-backed bonds.
The C-470 project managers realized that motorists may be affected by the construction. They have diligently planned on keeping delays to a minimum. Motorists can get lane closure information by visiting www.codot.gov/travel/scheduled-lane-closures.html.
For more information about the project, visit www.codot.gov/projects/c470ExpressLanes. Online animation driving videos are available online at www.codot.gov/projects/c470ExpressLanes/c-470-express-lane-videos.