DCSM fun run brings in the dough
October 1, 2013
/
/
Comments Off

on DCSM fun run brings in the dough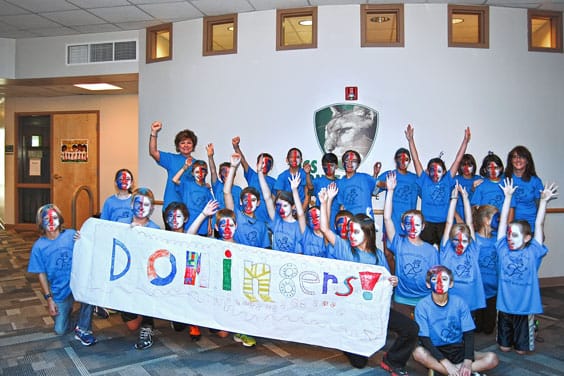 A little – no make that a lot of rain didn't stop the action as the DCSM fun run moved indoors this year to raise funds for the school.
By Kathy Dunker; photos courtesy of DCSM
Friday, September 13 was not unlucky for the DCS Montessori Charter School (DCSM) as it held its 3rd annual fun run event. Supporters helped the school surpass its $50k fundraising goal nearly a week before the donation deadline on September 18.
"We are thrilled at the level of support our school has received from the Castle Pines community," says DCSM Head of School Jeromy Johnson. "Each year our school's supporters have exceeded our expectations of giving, and we look forward to putting the money to good use."
Funds raised this year are earmarked to provide for a long list of improvements, including shade structures for the primary and elementary playgrounds, technology upgrades, new paint, new carpet, and more. DCSM has also broken ground on its new middle school, which should be completed within this school year.
Johnson commented about the middle school expansion, "We have seen an increased curiosity about Maria Montessori's self-paced teaching philosophy, and that new level of interest is helping diffuse the stereotype that Montessori is only practical for preschool-age children. We had been waiting for the right time to launch the DCSM middle school," he said, "and two years ago we reached that critical mass where we knew the support was there, financially and philosophically."
The Middle School will maintain small class sizes and a multi-age format, with the eldest acting as mentors, as well. To learn more about DCSM, visit www.dcsmontessori.org.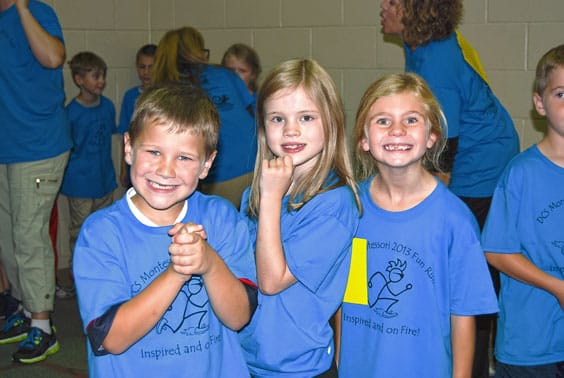 Castle Pines Village residents Katie and Alexa shared in the excitement as they helped raise funds on October 13 for the school during the fun run event.