Designer shares her gift with those in need
June 1, 2017
/
/
Comments Off

on Designer shares her gift with those in need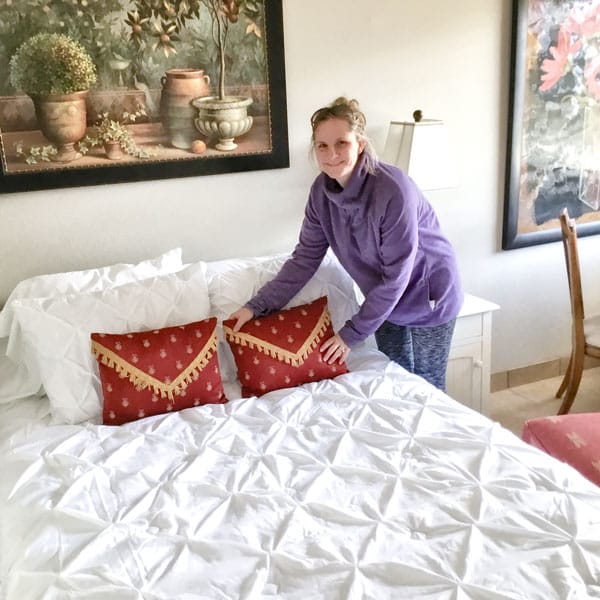 Ann Marie McDonnell sprucing a room for a family at Joshua Station in Denver, which helps families transition from homelessness to a healthy, stable living environment.
By Lisa Nicklanovich; photos courtesy of Ann Marie McDonnell and Lady Uhlig Photography
For Ann Marie McDonnell, interior designer and HOA #1 resident, designing and staging spaces represents more than the opportunity to make a space more beautiful than it was before; McDonnell spruces rooms at Joshua Station in Denver, creating a long-term transformational home for homeless families who are working toward independence.
As a child growing up in Georgia, McDonnell was intrigued by the architecture of the south and was always fascinated to see how people decorated their homes. Her parents would often find that the budding young designer had rearranged her room to see what felt best. McDonnell studied interior design at The Art Institute but sometimes questioned her decision as a selfish one, until she realized the good she could do with her skills. "It's been neat over the years to see how this career has given me the opportunity to help others. At Joshua Station, I know there is a family that is struggling to get back on their feet. They are working hard to get through the program. Homelessness comes in many shapes and sizes and is not necessarily the result of bad choices," McDonnell said.
McDonnell recently completed her third space at Joshua Station, this one for a single mom with an 8-year-old boy and 11-year-old girl who is in a wheel chair and will begin medical surgeries soon. McDonnell provides furniture and stocks the pantry and bathroom of the rooms.
Once Joshua Station families complete the program, they take all the furniture with them to their permanent home so it is a lasting gift.
Donations come by way of McDonnell's network via Facebook, the Castle Pines Next Door online community, Networking Divas and the Rock Canyon group from Cherry Hills Church. McDonnell added, "There's so much good in our community." McDonnell's interior design and staging business works hand-in-hand with her role at Joshua Station, as clients who are moving or changing their furnishings are often looking for a home for some of their furniture. Donations stay crammed in McDonnell's garage, much to her husband Craig's chagrin. A donation of a unit in a storage facility or any usable storage space would make it possible for McDonnell to collect items year-round.
For more information about Joshua Station, visit www.joshuastationdenver.org. For more information about McDonnell, visit www.cayde.com. To donate, contact McDonnell directly at annmarie@cayde.com.