Don't sit – get fit, be smart and take care of your heart!
April 1, 2012
/
/
Comments Off

on Don't sit – get fit, be smart and take care of your heart!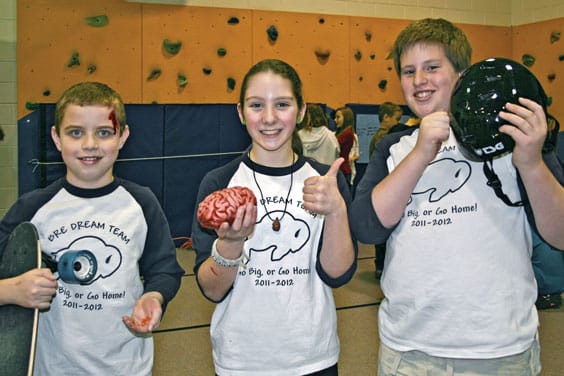 Dream Team members show off special effects – a fake brain, a fake cut, and a helmet –they used to teach kids about keeping their brain safe during the Dream Team Health Fair on Feb. 24.


By Bryce S., BRE Ridgeline staff reporter
On February 24, the Dream Team at Buffalo Ridge Elementary School (BRE) transformed the gym into a mega health fair. Dream Team members are the student leaders of the school from first to fifth grade who set an example by teaching kids about important lessons. Stations throughout the gym had different topics, but they were all to teach the kids at BRE about healthy life choices.
BRE Dream Team member Jackson, who is a fifth grader, had a "Healthy Heart" station. Jackson felt the most important part of his presentation was teaching the ideal heart range. He commented, "heart rate is important because it keeps you alive." The station also taught about the importance of exercising. The Healthy Heart exhibit was interactive and fun. Second grade visitor Matthew's favorite part was when he jumped rope.
Kids at the health fair learned about head safety and concussions. This station had demonstrations with long boards and showed how people can get a concussion if they don't wear a helmet. There was a great slideshow and special effects that showed a human brain and what happens to it when it is injured.
Students also learned to avoid smoking at all costs. The model of a smoker's lung was black and very unhealthy looking. The healthy lung was bright pink. Smoking can lead to lung cancer. Students like Matthew learned how many bad chemicals are in a cigarette.
With summer around the corner, health fair visitors were educated about the importance of sunscreen. They learned that if you don't put sunscreen on, you could get a bad sunburn or skin cancer. "I am definitely going to put sunscreen on more," said Matthew.
The health fair was not only educational but extremely entertaining for all of the BRE students, staff, and visitors. The Dream Team members prepared extensively and shared their knowledge.
Mrs. Pinke and Mrs. Jacoway, the leaders of the Dream Team, were very proud of this Dream Team group for doing, "a fantastic job preparing and sharing what they learned." Those who were lucky enough to attend the health fair will be making some positive changes. I know I [writer] am!