Douglas County and area churches partner for Winter Shelter Network
November 1, 2016
/
/
Comments Off

on Douglas County and area churches partner for Winter Shelter Network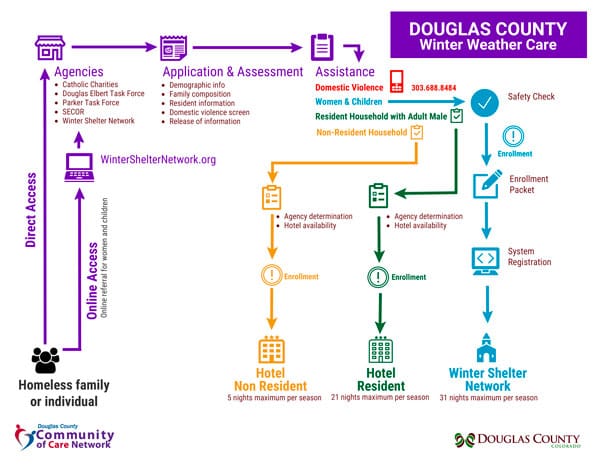 This chart shows how the Winter Shelter Network will work to meet the needs of the homeless in Douglas County, from November through March 2017.

By Elizabeth Wood West; illustration courtesy of Rand Clark
Thanks to the compassion and vision of local faith-based nonprofit organizations, area churches and Douglas County government, a struggling and often overlooked demographic within Douglas County will be able to have a warm, clean and safe place to spend their winter nights. The Winter Shelter Network (WSN) will be providing services to homeless men, women and children beginning November 1 and running through March 31, 2017.
Rand Clark, community of care navigator for the Douglas County Department of Community Development said, "In the fall of 2014, [this group] reached out to Douglas County and asked what was needed by our vulnerable residents and how they could help address these needs. Providing shelter during the winter months was one of the needs presented to the group by the County. This unique partnership includes Douglas County Department of Community Development and the Department of Human Services, Catholic Charities, the Crisis Center, Douglas/Elbert Task Force, Parker Task Force and Southeast Community Outreach (SECOR); the churches include Grace Chapel, Cherry Hills Community Church, Parker United Methodist, Joy Lutheran Church, Castle Oaks Covenant Church, The Rock, Crossroads Community Church, and Southeast Christian Church.
Clark explained that churches will host women and children one night per week on a rotating basis from November 1 through March 31. A typical night will include dinner, a place to sleep, breakfast and a sack lunch. Some churches may provide additional services such as homework help, games for the children, etc. Program participants will go through an assessment process to determine eligibility; this will be conducted at the nonprofit agencies (Douglas/Elbert Task Force, Parker Task Force, SECOR and Catholic Charities) or through a dedicated team of volunteers working with the WSN program director. Each of the nonprofit agencies providing the assessments have existing hotel voucher programs; men and families with adult males will need to go to one of those agencies. Based on individual agency policy, availability of funding and hotel vacancy, they may be provided with a hotel voucher. The participants will need to provide their own transportation between the churches each night; churches may provide gas cards to offset the cost of fuel to those needing assistance.
Clark added that, according to the Douglas County School District, 499 Douglas County school-aged children experienced homelessness during the 2015-2016 school year. The 2016 annual Point in Time Survey of Homelessness shows that 80 percent of those experiencing homelessness in Douglas County are in households with children. David A. Weaver, chair for the board of Douglas County Commissioners said, "For Douglas County families experiencing homelessness – 80 percent of which include young children – this solution for winter weather shelter is not only an enormous blessing, it is a life saver. We are overjoyed by the multiple local churches, nonprofit agencies, and other service organizations that answered the call so that those in crisis may have shelter, comfort, and other resources in their time of need," he said.
For more information and/or how you can help, contact WSN at www.wintershelternetwork.org or call Rand Clark at 303-660-7460.