Eighth grader collects turkeys for the Denver Rescue Mission
December 1, 2010
/
/
Comments Off

on Eighth grader collects turkeys for the Denver Rescue Mission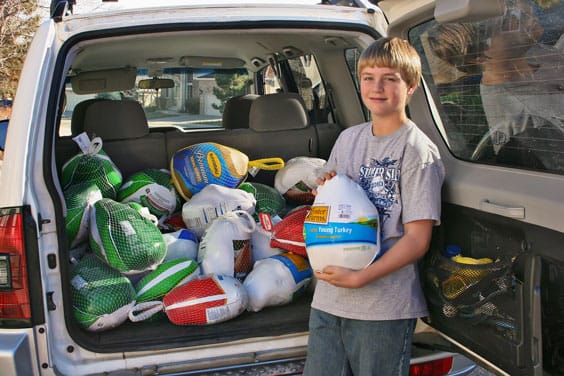 Pictured above, Tucker Middleton stands with the 32 turkeys he collected to help the Denver Rescue Mission for Thanksgiving.


Article and photo by Carin R. Kirkegaard

Tucker Middleton organized and collected 32 turkeys and raised more than $100 to help the Denver Rescue Mission with the organization's annual Turkey Drive.
Middleton, a Castle Pines resident and member of the National Junior Honor Society (NJHS) at Rocky Heights Middle School, decided to organize a turkey drive as a community service project for the NJHS when the Denver Rescue Mission expressed concern that there wouldn't be enough turkeys.
As of November 11, when Middleton started his project, the mission only had 35 turkeys in its freezer and that number was a far cry from the 6,000 turkeys the mission needs each year for the Thanksgiving holiday.
Middleton canvassed the Castle Pines neighborhood with flyers explaining the need and how local Castle Pines neighbors could help in three ways. One, donate money and Middleton would purchase the turkey. Two, purchase the turkey and Middleton would pick up the turkey and deliver it to the mission. Three, drop off the donation, either cash or turkey at the Middleton home. More than 30 community members chipped in to help.
News of the Denver Rescue Mission's need traveled quickly throughout the greater Denver area, and before Middleton could collect his turkeys, the mission had more than 11,000 turkeys sitting in the freezer waiting for Thanksgiving.
Middleton took the 32 turkeys he had collected to the mission to add to the freezer. With the monetary contributions, he choose to purchase 55 meals for the homeless that will help even after the Thanksgiving holiday has ended.
The goal of the Denver Rescue Mission is changing lives in the name of Christ by meeting people at their physical and spiritual points of need with the goal of returning them to society as productive, self-sufficient citizens.
To make an online donation or to learn more about the work being done at the Denver Rescue Mission, visit the website at www.denverrescuemission.org.