Bargains and friendly atmosphere at the new task force thrift store
December 1, 2010
/
/
Comments Off

on Bargains and friendly atmosphere at the new task force thrift store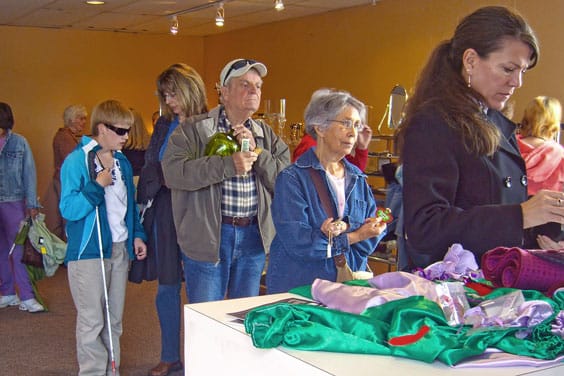 Lines of shoppers were constant throughout the grand opening day of the new task force thrift store. It was an overwhelmingly successful first day.

Articles and photos by Patte Smith
The Douglas/Ebert County Task Force celebrated the grand opening of its new thrift store on Saturday, October 23. All of the task force services are now under one roof at 1638 Park Street in Castle Rock. The grand opening featured special holiday items, goodies to eat and drink, and free pumpkins for shoppers and residents who stopped by to join the fun.
"This is the culmination of years of work by our board, our staff and our terrific volunteers," noted Executive Director Suzanne Greene. "We are particularly grateful to Wednesday Guys Drinking Coffee, an intrepid band of volunteers from New Hope Presbyterian Church, for the many, many hours of service they've donated in renovation work at the new Task Force building."
The new thrift store is very roomy and neatly organized in sections by each type of merchandise. It has a separately designated cashier area which leaves a lot of room for shoppers in the store. "We were so pleased by the turnout at the grand opening," smiles Greene. "We had no idea how many customers would visit the store…we had so many great deals and it was a nice opportunity to meet so many of the shoppers."
The thrift store has also made some new friends recently, Just Between Friends (JBF) — the nation's leading children's and maternity consignment sales event. The thrift store received an enormous amount of unsold children's and maternity clothing from JBF's September sale, along with a mountain of donated diapers.
Do some holiday shopping and meet the gracious volunteers who run the store. The Task Force Thrift Store is open 9 a.m. to 4 p.m., Monday through Saturday. Donations are accepted 9 a.m. to 3 p.m., Monday through Saturday.
For more information call 303-688-6129 or visit detaskforce.org.