EpiPens presence in schools provides safeguard
October 1, 2019
/
/
Comments Off

on EpiPens presence in schools provides safeguard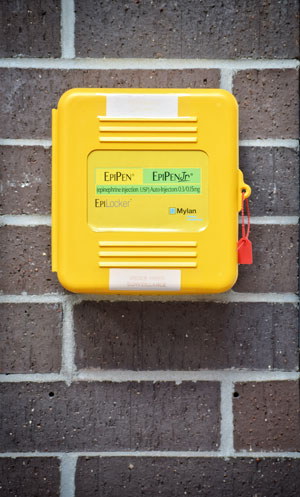 An EpiLocker on the wall has stock epinephrine for emergencies.


Article and photo by Lynn Zahorik
Within the halls of every Douglas County School District (DCSD) school is a yellow box called an EpiLocker. These boxes, which contain stock epinephrine auto injectors for emergency situations, have been present since December 2017. Approximately one in 13 children is affected by food allergies, so making epinephrine auto injectors, most commonly refered to as EpiPens (EPI), readily accessible is integral to the emergency treatment of these students. Ten doses of EPI were administered in the 2018-19 school year.
Celia Flanigan, coordinator of nursing services for DCSD shared some insight about children with food allergies. "First time reactions are happening in schools more often nationwide, and based on the number of hours that our students are in school versus home, this is not surprising. Twenty percent of first-time unknown reactions are happening in schools. Students are eating several times per day at school and are therefore prone to come into contact with an allergen that is either known or unknown. As a school district, we felt that we needed to be prepared for these instances."
The presence of EpiPens in our schools is a valuable safeguard in protecting the lives of our students.