Exceptional customer service speaks volumes
June 1, 2016
/
/
Comments Off

on Exceptional customer service speaks volumes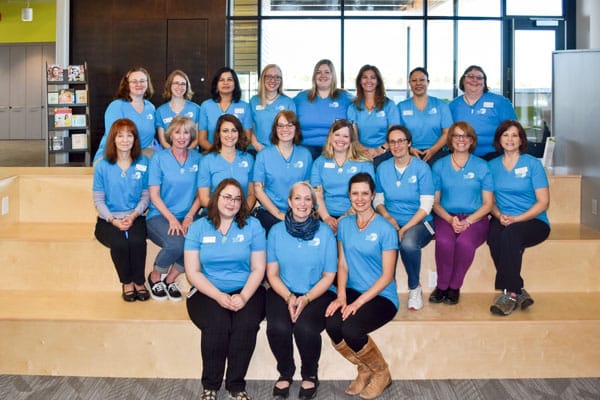 The new Castle Pines Library staff, bottom row (left to right): Emily McCabe, Aspen Walker, and Becca Stein; middle row: Debbie Stephens-Sutton, Kelli Bischoff, Aimee Oldenburg, Kate Prestwood, Jen Yadav, Maria Benito, Marcy Kelley, and Deidre VanRy; top row: Shannon Basher, Katie Burns, Neelam Chauhan, Alyson Durham, Jill Swanstrom, Cherie Ellingson, Kyra Hahn, Joanne Daley; not pictured: Kelcy Davis, Ines Donovan, Laura Eichner, Janet Harper, Reta O'Rear, Laura Spradlin, Danielle Van Keulen, and Karen Weber.


By Patte Smith; photo by Lynn Zahorik
The most important asset of any library goes home at night … the library staff. – Timothy Healy
The new Castle Pines Library is filled with books, videos, research information, story times, special events, cozy nooks, and an awesome patio with a toasty warm fireplace, but the real wonder of the library is the dedicated staff. If their enthusiasm could be bottled, it would be a zillion dollar industry. Each and every one of them truly enjoys what they do. It is not only their love of books and reading, but their positive attitudes and desire to help patrons that makes them special.
"The staff at Castle Pines embodies a welcoming, respectful, innovative, trustworthy and resilient approach to serving the community," affirmed Aspen Walker, branch manager of the Castle Pines Library. "They are brimming with hospitality, humor, care and intelligence, and I count myself very fortunate to work alongside them every day. Please come in and see all of us, we are eager to be of service at your new library."
When asking the team about their profession, they respond in unison, "We love our work!" This is exactly what they want to do and they do not consider it work. Some of the librarians started at other libraries in hopes they would be hired at the Castle Pines branch. Others manned the ever-endearing Bookmobile in the King Soopers parking lot. Wherever they hail from, the Castle Pines community has scored big-time with this exceptional team who are friendly, knowledgeable and most welcoming when patrons enter the door.