Facing challenges head-on leads to joy and healing
January 1, 2017
/
/
Comments Off

on Facing challenges head-on leads to joy and healing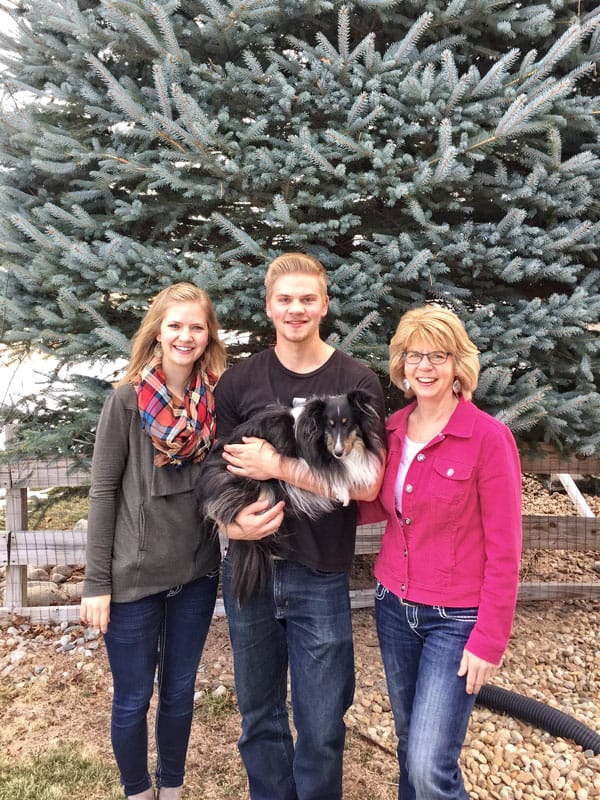 Judy Carlson is a joyful woman with a quick laugh and a genuine warm personality who has worked hard to overcome tremendous challenges during the past four years. "We all go through such hard times, but if we stay faithful to what we are called to do, we survive," she said. Carlson loves living in Castle Pines with daughter Britta, son Erik and dog Dita.

By Amy Shanahan; photo courtesy of Judy Carlson
"Welcome to the land between: where life is not as it once was, where the future is in question." This quote, taken from the book "The Land Between" by Jeff Manion, was the depiction of life for Castle Pines resident Judy Carlson as she faced extraordinary changes in her life over the past four years.
Carlson worked for 18 years in finance for several large corporations in Minneapolis, Minnesota prior to getting married and becoming a mom to her two children, Britta and Erik, and third child, Kurt, who passed away at birth. Carlson left the workforce to be with her children and home schooled them for the next 18 years. In 2006 at the urging of her husband, Carlson and her children moved to a family home in a remote area of Wisconsin. Her husband never joined the family, and Carlson suffered through deteriorating health and a troubled marriage for the next six years.
In 2012, Carlson packed up her children and everything they could fit into their small car and moved to Chicago to be with close friends who encouraged her to make a change and introduced her to the book that would help change her life. In Chicago, Carlson found a new church, attended job transition workshops, joined networking groups and, ultimately, found her first job in 18 years. "I was still at a very low point in my life," remarked Carlson. "I was so broken that I could hardly function." The family found an apartment and relied on the generosity of their fellow church members who donated furniture and other items to get them started. These same items are still with them today. "Everything that we have is a constant reminder that all of it was donated to us, and it's amazing! The generosity of these people overwhelms me," said Carlson.
Carlson and her children moved to Colorado in 2013 after she received a job offer from a local financial firm. The family subsisted on social programs that provided food, free clothing and more. Over the next three years, Carlson began healing both physically and mentally, and just recently, Carlson was able to afford a home. "We all went to work when we left home," said Carlson. "I'm grateful because my children know how hard it is—they have to save up money when they want to buy something, and they appreciate everything we have."
Carlson sees her life as a series of miracles. "The most remarkable thing that has happened to me is that God has taken my passion for finance and education and has married them. Thirty-six years prepared me for today. In difficult and hard circumstances, nobody believes that their situation is going to prepare them for the future. But staying faithful to myself has brought me to where I am today."
In her professional life, Carlson partnered with Will Duffy, who she met the first day at her new job in Colorado, and who she calls her kindred spirit. The two now run Verity Financial where they work to assess the full scope of their client's financial situation, determine what their goals are, and take them there as efficiently as possible. "We want them to have the future that they could have and educate them on what's going to happen to their money," explained Carlson.
Carlson believes that she emerged from "The Land Between" in September of 2016 and has been called to share her story now with others. "I want to be a minister to others," stated Carlson. "A lot of women are bitter from their circumstances, and I have not come through these difficulties with bitterness. I have a forgiving spirit so it's helped me. Amazing things just keep unfolding in my life … I find the good things that each day holds."
The Carlson family now calls Castle Pines home, and they could not be happier. Daughter Britta works full time as the director of client relations at Verity Financial and is also a part-time college student pursuing a degree in web and graphic design from the Art Institute of Colorado. Son Erik works full time and is very successful at his job at a luxury car dealership.
"We feel like we've come home living in Castle Pines. When we leave the city behind and come south we come into this calm, peaceful, quiet, mature, beautiful community where people are friendly, people smile at you, and business owners stop and talk with you. The Chamber has been extremely welcoming, neighbors are friendly, and it's safe. We've been here now six months, and I feel like I've been here forever. There isn't anywhere else I want to go!" stated Carlson.