Fire department seeks input on community hazards
December 1, 2011
/
/
Comments Off

on Fire department seeks input on community hazards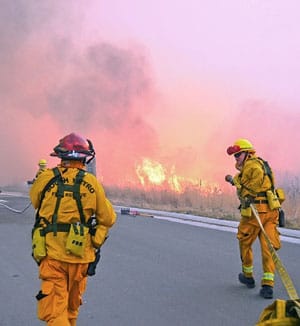 Firefighters work to protect life and property in the 2003 Cherokee Ranch Fire. Photo courtesy of Tim Tonge.
Submitted by South Metro Fire Rescue Authority
Wildfires, blizzards, house fires and even tornadoes sometimes threaten our communities and impact lives and properties. It is the job of South Metro Fire Rescue and other emergency services to be ready to help, not just for those risks but for all the various hazards that exist in our communities. This "all-hazards" approach is being embraced by governments across the country. But what are all the hazards and how high are the risks, here in our area?
In order to better answer those questions, the South Metro Fire Rescue Authority is in the process of updating its risk assessment analysis. "We want to better align our response and mitigation efforts with the cities and counties we serve," says Mike Langello, the planning and analysis coordinator for the fire authority. "To get as much information as possible, we very much want public input to add to our own assessments and to help us prioritize the risks," he says.
To get public input in the process, South Metro has posted a short survey on the home page of its website, southmetro.org. Anyone who lives, works or owns property in the area served by the fire authority is encouraged to take the survey. The input will be used by South Metro for future planning, training and mitigation activities.