Flat Stanley visits former President
June 1, 2009
/
/
Comments Off

on Flat Stanley visits former President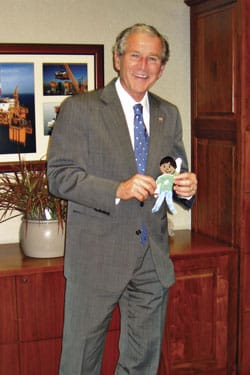 by Carin R. Kirkegaard
Jared Roberts, a second grader at Buffalo Ridge Elementary (BRE), was certainly surprised when the letter containing the adventures of Flat Stanley from his uncle returned with photos of former President George W. Bush holding Flat Stanley.
"Is that George W. Bush with Uncle Mike and Flat Stanley?" questioned Roberts.
The photo was part of a writing project taught to second graders at BRE. The project stems from Jeff Brown's book Flat Stanley. In the story, Stanley Lambchop is flattened by his bulletin board that falls on him while he is sleeping. Making the best out of the situation, Stanley decides to mail himself to a friend for a vacation. After many adventures, the friend mails Stanley back home again. Brown has many books that take the reader on adventures far and wide with Stanley.
The Flat Stanley unit is a favorite at BRE. The second grade teaching team uses the unit to teach letter writing and geography. After reading the story of Flat Stanley in class, students then create their own paper doll versions and send him off to family and friends. While Stanley is visiting the host or hostess takes photos and then writes a letter, which is returned to the student. The student then shares the adventures with the class.
While visiting a former president is by far the biggest celebrity that Flat Stanley met this year, he also traveled as far as Australia and Spain.