Fourth graders win at Robofest competition
June 1, 2009
/
/
Comments Off

on Fourth graders win at Robofest competition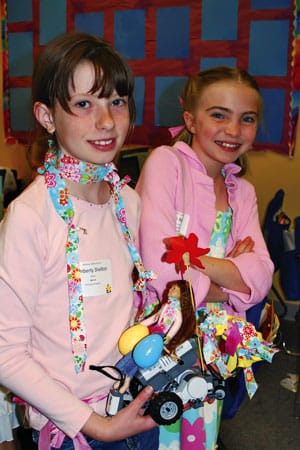 American Academy fourth graders coordinated their robot with their spring outfits as part of the fashion competition at Robofest.
(Photo by Trish Cummings)
by Lane Roberts
On Saturday, April 11, American Academy's fourth graders won big in a Robofest competition.
Robofest is an annual autonomous robotics competition focusing on learning science, engineering, technology and math (STEM) for students.
Robofest challenges teams of students to design, build, and program robots to compete in one of the three categories: exhibition, fashion and sumo wrestling. The event was coordinated by STEM Director Amanda Lane-Cline and middle school teacher Audra Chapleski.
"This was the first time we've given fourth graders a robotics project with instructions to solve a 'problem' as a team," said Audra Chapleski. "The kids did an amazing job programming their robots using laptops and the Lego's MindStorm Program. They worked so well together, we are all so very proud of them!"
Congratulations to the following Robofest winners:
Exhibition category –
Chace Nelson, Evan Weisenmeyer, Michael
Heathershaw, first place;
Steven Gordon, Brandown Jewell and Rehaan
Bhimani, second place.
Fashion category –
Kimberly Shelton and Grace Roberts, first place;
Breauna Gray, Isabel DePinto and Amelia Shaw, second place.
Sumo wresting category –
Ben Price, Nicholas Pacheco and Ishaan Bhimani, first place;
Ty Veres, Jake Graser and Chester Lankford, second place.
Robofest is designed to promote creative and innovative thinking while maximizing STEM skills of students. It also is designed to promote teamwork and while motivating students' interest in STEM areas.
To learn more about Robofest, go to www.robofest.net.