Flying high with enthusiasm and love of nature
April 1, 2016
/
/
Comments Off

on Flying high with enthusiasm and love of nature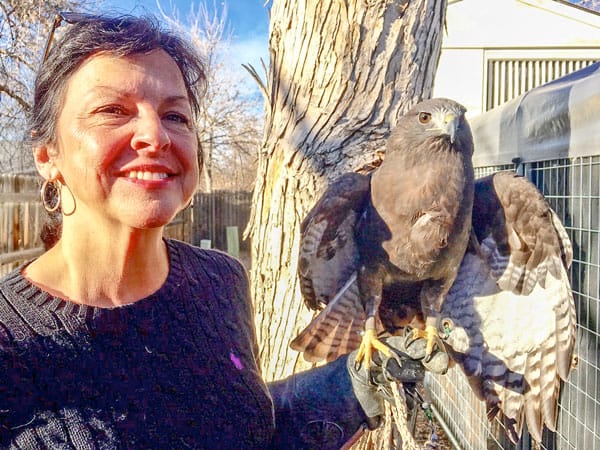 Gina Gerken, a raptor enthusiast and bird handler, enjoys the company of a non-releasable red-tailed hawk.

By Patte Smith, photos provided by Gina Gerken and Nature's Educators
Castle Pines Village resident Gina Gerken is passionate about birds. Since the fifth grade she has studied, drawn, counted, monitored, fed, and flown birds.
"One day my sister dragged me out of the house so we could watch some birds in our yard to see how they acted and interacted – I became completely mesmerized," explained Gerken. "I had always loved nature but hadn't noticed birds for what they are, incredible and beautiful animals. From then on, we both would grab a pad of paper and pen and head outdoors to see how many species we could identify. That is when I found out about the National Audubon Society and a whole new world opened up for me."
Gerken is a self-taught birder and nature lover. "I was a girl scout forever," she laughed, "and learned a lot about wildlife and the environment. I attended the National Outdoor Leadership School and then winged my way through books, researching, and educating myself about these amazing feathered creatures."
Gerken has turned her enthusiasm into educating all age groups about birds, more specifically, about birds of prey – hawks, falcons, eagles, and owls. Handling hawks in well-known outreach programs for several years, Gerken has awed audiences with raptors and her knowledge of the natural world.
Presently, Gerken is involved in Nature's Educators, an educational wildlife organization that connects people to wildlife and the environment. With its 22 non-releasable raptors and numerous outreach programs, her current responsibility has shifted from handling birds to fundraising.
Cherokee Ranch & Castle Foundation has invited Nature's Educators to
move its wildlife facility to Cherokee Ranch property. This is
exciting news for Gerken. "I will now have Nature's Educators in my own
'backyard'."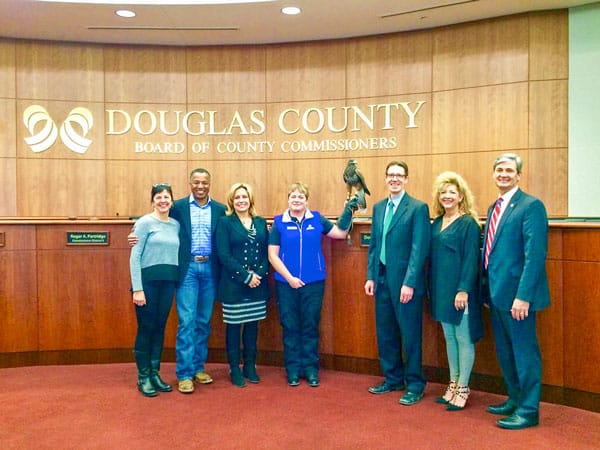 Devin Paszek of Nature's Educators held a raptor with some of the
Douglas County Commissioners and Cherokee Ranch & Castle Foundation
members. The Cherokee Ranch & Castle Foundation has generously
agreed to provide a new home for Nature's Educators wildlife facility on
Cherokee Ranch property with the approval of the Douglas County
commissioners. While Nature's Educators will continue with its birds of
prey outreach programs throughout Colorado, the organization will also
partner with the foundation to offer wildlife programs and lectures at
the Cherokee Castle.
The temperature-controlled facility will house raptors, reptiles, amphibians, and invertebrates in brand new, beautiful enclosures. There will be a supervised medical facility, an on-site laundry, volunteer lounge, staff offices, a huge food prep room, and much more. Advice from the avian vet will also be offered to assure the birds' well-being.
"Two buildings that are currently on site at Cherokee Ranch are being renovated by many of our volunteers," stated Devin Paszek, president of Nature's Educators. "They have been working tirelessly on weekends since many of them have full-time jobs. One of the structures is about 75 percent complete. We can always use more help, so for those interested in wildlife we encourage you to volunteer. Donations are greatly appreciated too."
Gerken is very active in Castle Pines Village where she is the "go to" person when questions come up about animal behavior. Several years ago, the Castle Pines Village Homes Association neighborhood residents, including Gerken, established a wildlife committee in the Village. For the past five years she has served as the organization's chairman. The committee has placed 69 bluebird boxes on a trail throughout the area and closely monitors them. They also give presentations at "Coffee, Tea and Wildlife" talks that are held in the neighborhood.
"Over the years I have been so excited to participate in live animal education programs," stated Gerken. "I am glad to be a part of raising awareness and sharing my knowledge about our extraordinary wildlife and the beauty of our environment. Let's keep it that way."
For more information about Nature's Educators, visit www.natureseducators.org. To learn more about birds, visit www.denveraudubon.org.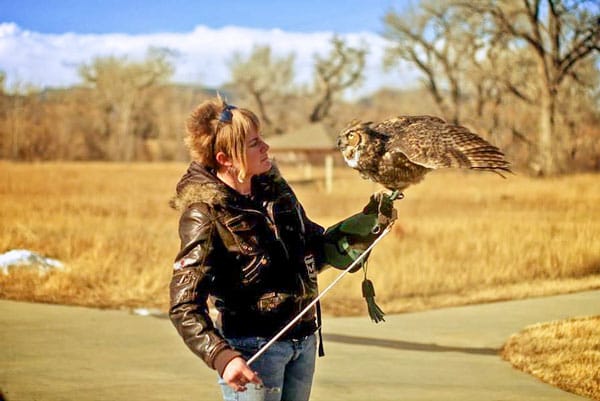 Devin Paszek started Nature's Educators in 2008 in her own personal
residence. "My goal was, and still is, to bring animals into nature
centers, classrooms, events, and more, to teach children and adults
about wildlife and help to create a healthy respect and understanding of
all animals. It has been a tough road at times, but I am so thrilled
about this amazing opportunity for Nature's Educators to have a
dedicated facility for the animals."