Free-motion quilter tells stories in stitches
April 1, 2019
/
/
Comments Off

on Free-motion quilter tells stories in stitches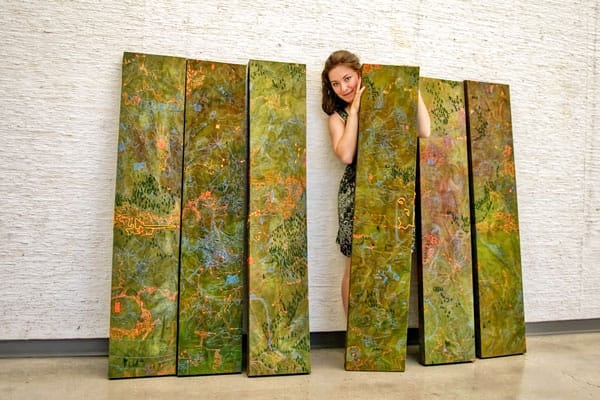 Jenny Welden with a six-panel set she created titled Interior Landscapes, which recently sold. Welden started with white cotton and hand dyed the fabric which was stretched over frames. Welden used free-motion quilting to embroider her designs which also added color and texture to the pieces.
By Lisa Nicklanovich; photos courtesy of Jenny Welden
When Jenny Welden of The Village at Castle Pines was 8 years old, she volunteered at Four-Mile Historic Park in Denver and often found herself with the women quilters who were showing visitors what pioneer days were like. The women gave Welden scraps of fabric, which she cut into triangles and sewed together, her first attempt at quilt making.
Now, nearly 20 years later, Welden is a textile artist who creates exquisite high-end art. She has worked in many artistic disciplines, including classic portraiture, figure drawing, abstract painting in acrylic, encaustic, and oil, weaving, metalsmithing, printmaking, costume construction, fashion design, and oh, she is a professional dancer too! Free-motion quilting, however, has given her the ability to bring her drawings to life.
Welden said, "In middle school, I filled notebooks with line drawings, covering each page with my stream of consciousness: people, animals, mythical symbols and celestial beings mixed together with dots, flowers, water and trees. Each page was like an 'I spy.' I gave them as gifts to my friends and teachers. I still think of them as doodles, but this drawing style – that juxtaposes the abstract with the representational like a story unfolding freely and unexpectedly – is the backbone of my voice as an artist, and it continues to live on through my quilts."
Welden pointed out that with a painting, you experience the art all at once as your eye takes in the entire image, whereas you experience a custom quilt differently, as the quilting is tailored to each specific area of the quilt.
A large custom quilt titled Purple Wonder exemplifies what Welden described as "the juxtaposition of micro and macro on a monumental scale." From a distance, the quilt is a bit like an abstract painting, but upon closer inspection, and in the right light, it becomes a wonderland with depth and dimension. Welden stitched in stories, which included animals, bits of mythology, the human form, fruits and vegetables throughout the piece, drawing in thread. Welden began with white fabric which she hand-dyed through a process inspired by the glazing process in oil painting. The colors evolved in a complex way through multiple dye washes, creating a luminescence and layering that could not be manufactured.
In a quilt titled Locust King, Welden created a map-like quality that used symbols and icons like topography with images of trees, mountains and rivers; a "physical and mental map," Welden said. There is depth and motion from the embroidery and an array of color from the hand-dyed fabric. Welden considers this piece a sister to a six-panel piece titled Interior Landscapes (pictured above) which recently sold.
Welden currently teaches figure drawing at Colorado College and is a dance instructor at Arthur Murray Dance Studio. To see Welden's work, visit her Instagram page at @jennyweldenart or email her at jenwelden@gmail.com.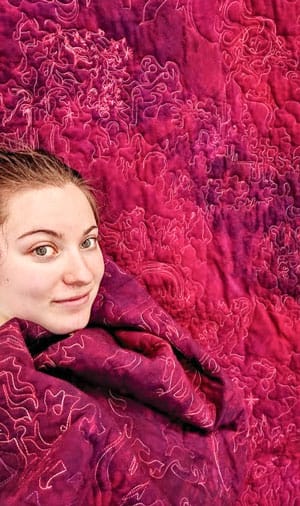 Welden with the reverse side of her creative quilt titled Purple Wonder. Welden feels quilts are "sculptures" and "kaleidoscopes" and that the reverse side is as important as the front. The piece demonstrates her talent with free-motion quilting and how the stitching is unique to each part of the quilt.