Healthy soil, healthy planet
April 1, 2019
/
/
Comments Off

on Healthy soil, healthy planet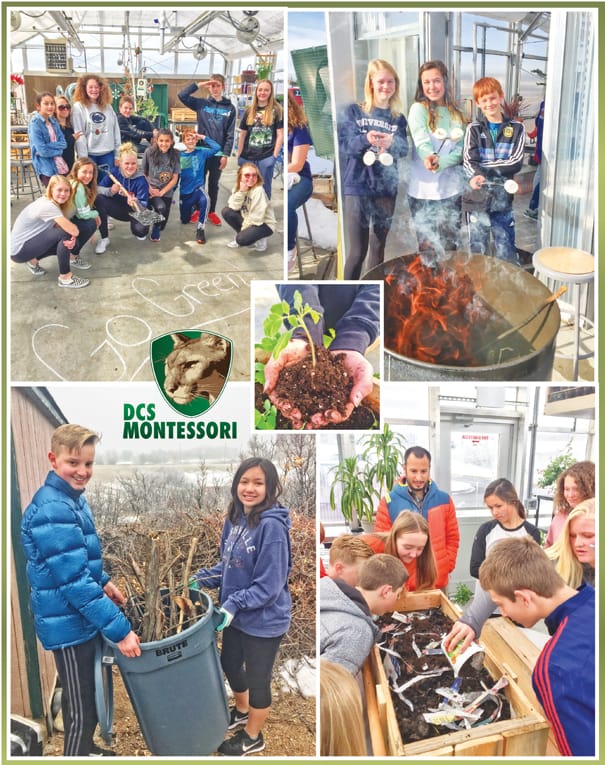 By Julie Matuszewski; photos courtesy of DCS Montessori
Spring has sprung which means our April showers will bring not only May flowers but also fresh grown vegetables from the DCS Montessori (DCSM) greenhouse students.
Sleeves rolled up, these garden students played in the dirt and soil while learning a fun lesson on sustainable soil. Soils are the foundation of food production and many essential ecosystem services. Sustainable soil management contributes to increasing food production, enhancing the nutrient content of food and adapting to and mitigating climate change.
Rebecca Jones teaches greenhouse as a DCSM middle school creative expression elective. Her goal for the garden students is for them to understand the benefit of healthy soil and how it directly relates to healthy food. Typically when one thinks of healthy food they think all natural, chemical-free foods.
The DCSM greenhouse used a process called vermicomposting to benefit our environment by reducing the need for chemical fertilizers and decreasing the amount of waste going to landfills. Students began the process by collecting compost from their daily lunches and saved the best raw material for the worm food. Big and healthy red worms mixed with the compost created vermicast or worm "poo" which was the perfect combination for healthy soil.
Students also learned to maintain the soil by adding carbon rich biochar. Student consensus was that playing with worms and burning biomass of tree limbs, leaves and branches were the most fun of the lessons – not to mention the roasting of marshmallows during the biomass burning. The garden students planted tomatoes, peppers, broccoli, chard, cabbage, cantaloupe and pumpkins for their upcoming spring veggie bedding plant sale. Kindergarten students and primary preschool students ages 3 and 4 made small peace gardens where they are scheduled to plant colorful annuals. Elementary students first through third grade will plant flower gardens to naturally support local pollinators, and upper elementary students will plant May vegetable gardens, which will be harvested throughout the summer and into the fall.
DCS Montessori will open its farmers market to the public next month. The market is scheduled to run late May through October. If you don't have a green thumb yourself, this is the perfect opportunity to support these budding gardeners while dishing up a fresh grown veggie meal.