From school to escuela; Castle Pines to Costa Rica
April 1, 2014
/
/
Comments Off

on From school to escuela; Castle Pines to Costa Rica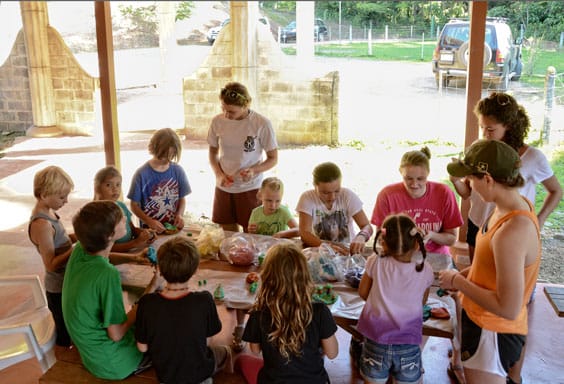 RCHS volunteers help students create art projects
at Escuela Verde in Uvita, Costa Rica.
By Michael Shapiro, RCHS intern writer; photo courtesy of Stephanie Varga
In Costa Rica, the median income per household is just above $7,000. In Castle Pines, the median income per household is roughly $155,000. While Costa Rica means "rich coast" when translated to English, the country is far from it. One major issue that exists within Costa Rica is the lack of quality public education provided to children.
In an effort to change this, seven Rock Canyon High School students set out in January to help its sister school, Escuela Verde. Escuela Verde is sponsored by the RCHS Key Club, and for more than five years, the Key Club has been building and actively aiding the school.
RCHS students Maddie Brown, Emily Taylor, Ester Gilbert, Erin Babilon, Brynn Haworth, and Julia Seifert traveled with RCHS teachers David Sapienza and Carol MacFarland to Uvita, Costa Rica after months of planning and preparations. Gilbert, Taylor, and Babilon are all Castle Pines residents.
The students delivered boxes full of pencils, notebooks, and other school supplies to Escuela Verde, in addition to leading a two-day camp for the students. These materials will continue to aid in the students' education in future years, and the camp was an experience the students and faculty of Escuela Verde will not forget.

"Seeing how our work can make such a big difference has pushed me to want to help more, in any way I can," Haworth said. "Being around the kids gave me a feeling unlike anything I had ever felt before. We were role models to them and they were inspired by us almost as much as we were by them."
With the success of the trip to Costa Rica, the Key Club will continue to raise funds and raise the quality of the education at Escuela Verde in future years and for future generations.
"It was so cool to see everything that we had worked for. It's crazy to know that someday Escuela Verde may be like Rock Canyon; maybe not in the near future, but someday," Brown said. "The trip was a huge success, and the students from both Rock Canyon and Escuela Verde made great memories along the way."