Future Development to Bring New Community East of Castle Pines North
August 1, 2005
/
/
Comments Off

on Future Development to Bring New Community East of Castle Pines North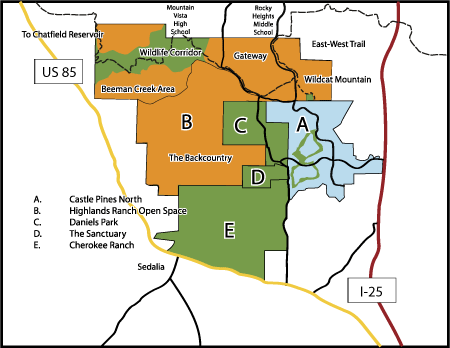 What's up with all the construction east of Castle Pines North? The bulldozers and dump trucks we see moving dirt have been part of the I-25 interchange upgrade and the Rueter-Hess Reservoir project; however, homes won't be built any time soon.
A new development, The Canyons, will eventually expand from the Castle Pines Parkway Exit 188, continue south past Happy Canyon Road and wrap around to the east of Castle Rock along Crowfoot Valley Road. The entire Canyons development will be comprised of 6,500 acres, more than three times the size of Castle Pines North, but will have fewer homes. How many homes will The Canyons bring to the area? Rumors of 10,000 homes abound. The reality is that developers have the approval from Douglas County to build a total of 2,500 homes. The majority of these homes will be built in the southern portion of the development, and won't be visible from Castle Pines North. A master plan has been drawn-up by the developers and was approved by the county nearly five years ago. However, before any construction can begin developers must receive County approval for subdivided lots, drainage, and local roads.
Essentially there are three sections to the development.
Section a –
The northern portion of the development will begin directly across I-25. Within view of Castle Pines North will be 511 acres of open space called, "The Canyons Preserve." This strip of land will stretch from the Castle Pines Parkway exit down to Happy Canyon Road. Further to the east, a 633-acre golf course will add additional open space. Interspersed throughout this land will be neighborhoods with nearly 770 homes on 1,521 acres of land. The lots will range in size from a half-acre up to thirty-five acres. There will also be another 85 acres of natural open space, as well as a 58-acre regional park. Land has also been reserved for a 10 acre local park as well as 10 acres for a school site.

Section b –
The middle portion of the development runs from Happy Canyon Road south to Crowfoot Valley Road. This section will have higher density with neighborhoods similar to those located in CPN. There will be 753 homes on 535 acres of land. There will also be 50 acres of natural open space. Sites have been reserved for a 25 acre equestrian center, a 10 acre local park, a fire station and a community center.

Section c –
The Canyons southern portion falls south of Crowfoot Valley Road in Castle Rock. The initial phase of this development is expected to begin with a 275 acre golf course and clubhouse. The first homes will be high-end custom homes built by eight to ten different builders. The cost of these homes will range from $500,000 to over one million. The entire southern portion of the development is expected to take eight to ten years to complete.
This parcel will also be the most densely populated area of the development, supporting 968 homes on 1,026 acres of land. Like the middle portion, these homes are expected to be similar in style and density to neighborhoods found in CPN. In addition, there will be various sections of open space that cover a noncontiguous 471 acres as well as a 64 acre regional park. Sites have also been reserved for two schools and two local parks.
Throughout the entire Canyons development there will be paved and unpaved bike paths and pedestrian trails, as well as equestrian trails.
The Canyons will never have commercial development. The highest density of homes will fall south of Crowfoot Valley Road and most residents will likely frequent businesses in Castle Rock. However, future Canyons residents may visit businesses at Castle Pines North.
In the course of development, changes will occur to existing roadways. Castle Pines Parkway will eventually extend into the Canyons and divide. One section will continue east and connect with Stroh Road in Parker. The other will continue south through the Canyons and eventually cross Crowfoot Valley Road. Happy Canyon Road will also extend east into the development.
When will construction begin? The southern portion (Section C), south of Crowfoot Valley, is likely to begin first. Lowe Enterprises, the developer, has started the approval process with the County and hopes to begin building in 2006. The Alpert Corporation, the other developer, (Sections A & B), has had preliminary conversations with the County, for the portion closest to CPN, but currently there are no definitive plans and dates set.
For more information about development and open space surrounding CPN visit the Master Association's website at www.cpnhoa.org, click on "community" and then "development".