Geri deGruy, the artist next door
February 1, 2019
/
/
Comments Off

on Geri deGruy, the artist next door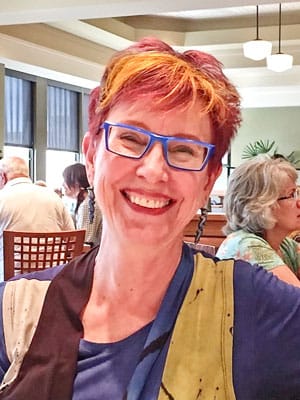 Geri deGruy of The Village at Castle Pines, a talented and multi-faceted artist, once believed she could not make art.
By Barbara Neff; photos courtesy of Geri deGruy
Sometimes the wildly talented walk among us disguised as ordinary neighbors. Local artist, Geri deGruy, a resident of The Village at Castle Pines since 1999, is one such neighbor. She is also living proof that other people's opinions might have little bearing on who you are and what you become.
DeGruy was born in Pennsylvania and grew up in two states, Ohio and New Jersey. She describes herself as "from all over." She is married to Frank deGruy III, who she describes as "handsome and smart," and is mother to four adult children and one adorable cat.
Though considered "artistically challenged" by her family, deGruy was undeterred. After earning a master's degree from the University of Alabama in counseling and working as a licensed mental health professional, deGruy landed in Colorado and almost spontaneously began to create art.
"Out of the blue," stated deGruy, "I started making things. Cards, then beads and jewelry, fiber art, quilts, then paintings and fine art. I was being a mom at the same time. My studio was and is in my home."
Once the flood gates of artistic expression opened for deGruy, she describes her journey as "full steam ahead." She took classes, read about and studied art, joined art groups and experimented nonstop. She began hosting her own shows in her home after being inspired to do so by another fine artist who lives only houses away from her in The Village at Castle Pines, Ginger Whellock.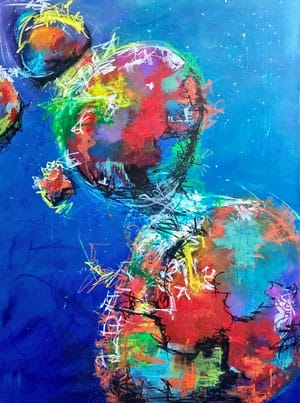 Creation, mixed on mounted canvas, is one beautiful example of the colorful art by local artist Geri deGruy.
The first impression for visitors at a Geri deGruy art show might be that quite a few artists must be represented. Paintings and clay pieces, jewelry and quilts, fiber creations, funky knit scarves and more. How could one artist produce such beautiful, colorful pieces with such a variety of media?
These days, deGruy works with fiber, acrylic paint, oil paint, watercolor, gouache and collage, with paints and collage serving as her current favorites.
When asked what obstacles she might have encountered in her art journey, deGruy replied, "Getting stuck with a painting." She further stated, "Sometimes I am not listening to myself and am trying to paint something people will like. Impossible. If I stay true to my insides and let go of everything else, art is usually fun and free."
If asked to advise others wishing to express themselves with art, deGruy points to regular, consistent creating as the key. Daily time in the studio, repeating processes over and over, taking classes, reading art books, associating with other artists, and participating in art groups all help open the door to artistic expression.
Said deGruy, "If I can make art, anyone can make art. We all have art in us, but it can feel scary. Jump in and keep going!"
Learn more about this intriguing and talented neighbor at www.geridegruy.com.