Get organized in the new year
January 1, 2016
/
/
Comments Off

on Get organized in the new year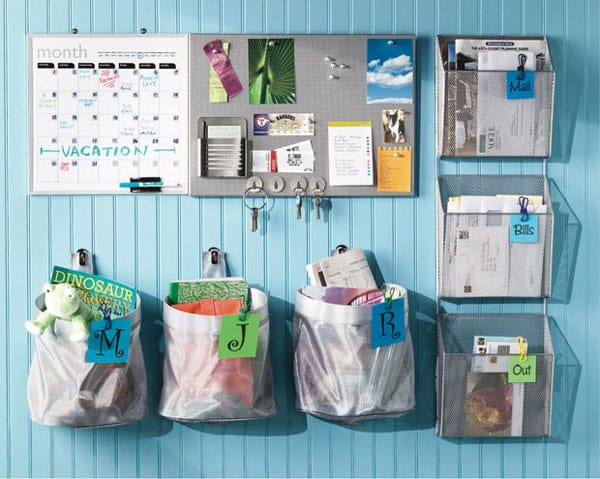 By Lisa Nicklanovich
Is there an area of your home that is disorganized and makes you feel overwhelmed or just a little annoyed?
An unofficial survey led to a common theme of areas in people's homes that collect clutter. See if any of these areas in your home could use some organization and hopefully these tips will help.
Entryway/Mudroom – Are all the coats, gloves, scarves, hats and other items truly used on a regular basis? Take the items out that are not used as often and put them elsewhere (or donate them). Use hooks for backpacks and coats at varying heights. Put the door to use with either an over-the-door set of hooks where five or six coats can go or a door and wall rack with baskets for the hats and gloves in the winter, and sunscreen and swim goggles in the summer. If you drop your purse or wallet and keys in this area, pick one hook or basket and always use it for this purpose. Assign each family member a basket or set of hooks.

Shoes – Whether you store shoes in the entryway/mudroom, the garage, or your bedroom closet, shoes can take over an area and create a tripping hazard. Take away the "sometimes" shoes from the area where you want the least clutter and need the most space. Choose a stacking shoe system and if you have the vertical space, go up! Give each family member a shelf (lower shelves for kids) or a basket. If the system is easy, they will be more likely to use it. For boots, use a tray and boot sticks or boot shapers which keep boots upright. For the shoes in your closet, use clear shoe boxes that open from the front, drawer-style, so you can stack them and still easily get shoes out.
Toys/Projects – Get a portable project box with smaller containers that fit inside. Baskets are great for items that can be tossed in, like stuffed animals. Put baskets or drawers with a handle under the bed or use an over-the-door organizer to store anything from Legos and dolls to hairbands and Hot Wheels.
Cords –We all have lots of cords and there are many new products out there just for this problem. First, wrap excess cord with a cord tie and use colored ties to identify cords. Next, bundle cords and put them in a cable box. Use hooks behind desks or nightstands to keep cords tidy and from falling to the floor.
If you do your best to keep the things you are trying to organize visible and accessible and you remain flexible on options, you will succeed!