Getting by with a little help from community, family and friends
May 1, 2015
/
/
Comments Off

on Getting by with a little help from community, family and friends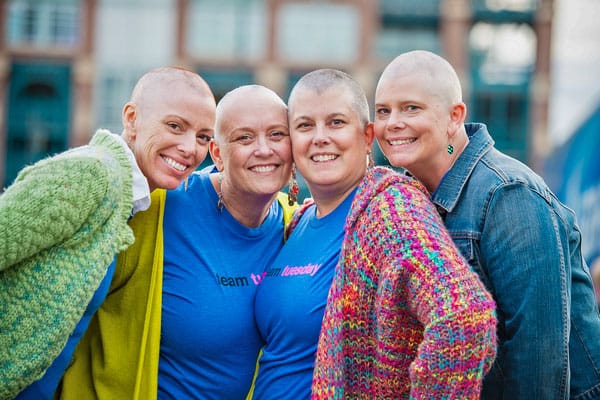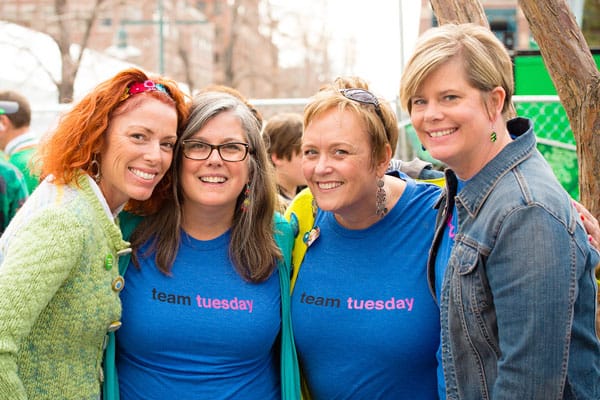 When Rita Klement (left) told her friends, Laurie Probsdorfer, Emily Hansen and Marne Hansen, she would be shaving her head to raise money for pediatric cancer, and to take control of losing her hair before starting chemotherapy, they said they would shave their heads too. (See top photo.)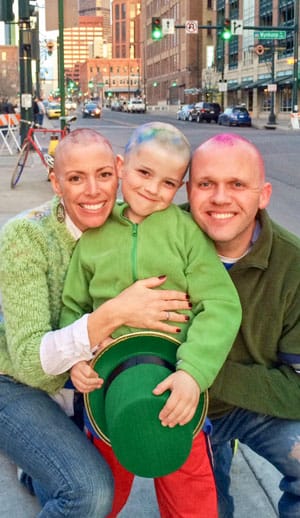 Rita Klement (left) with her son Sam and husband Todd who shaved their heads in support of Team Tuesday and raising money for pediatric cancer. Two of Klement's brothers in California also shaved their heads to show support. The Klement family has been participating in St. Baldrick's for years and the event is close to their hearts because of friends who lost children to cancer and illness. Sam, one of the youngest members of Team Tuesday, is still collecting donations at www.stbaldricks.org/participants/sammy2015.
By Lisa Nicklanovich; photos courtesy of Autumn Burke Photography
When Rita Klement hosted a National Night Out (NNO) block party on her Briar Dale cul-de-sac last August, she had no idea that her neighborhood would become the connected support system it is today. "There's been incredible bonding on our street. Before the NNO party on August 6, I hardly knew my neighbors. By the evening of the party, I had many new friends and felt connected to our neighborhood."
The bond had become so strong that when Klement was diagnosed with breast cancer on December 1, 2014, neighbors she barely knew only a few months prior came by with cards and flowers and even organized meals and support. Klement said, "I can't imagine going through all of this without my neighbors, and it's been amazing to see the many flourishing friendships with adults and kids on our street."
Klement, her husband Todd and four kids, Zeb (16), Oliver (14), Lily (11), and Sam (7) moved to Castle Pines six years ago. The family bonded with many families from the Renaissance Expeditionary School (RES) in Castle Rock and friendships have grown even stronger through tough times. Klement said, "Tragedy bonded our friendships with families from RES." Losing friends and family to cancer and illness brought the families together as "Team Tuesday," a group that has participated in raising money for pediatric cancer.
This year, Team Tuesday grew to more than 50 members and Klement said, "This year I was a 'shavee' in addition to being a supporter of St. Baldricks! What was incredible though, was when I told three moms at RES that I had decided to shave my head as I began chemotherapy, they all said they would shave their heads too."
The decision to shave her head was an empowering one for Klement who said, "When I met with my oncologist and talked about the side effects of chemo, such as hair loss, I decided I wanted to take control of this. I was going to lose my hair anyway, so this way being bald came right away instead of getting upset about it falling out. I felt empowered and free; it felt amazing."
Klement claims her strength comes from this network of support which is a testament to the power of mothers, friends, family and neighbors.