Mission accomplished at the BRE Science Fair
May 1, 2015
/
/
Comments Off

on Mission accomplished at the BRE Science Fair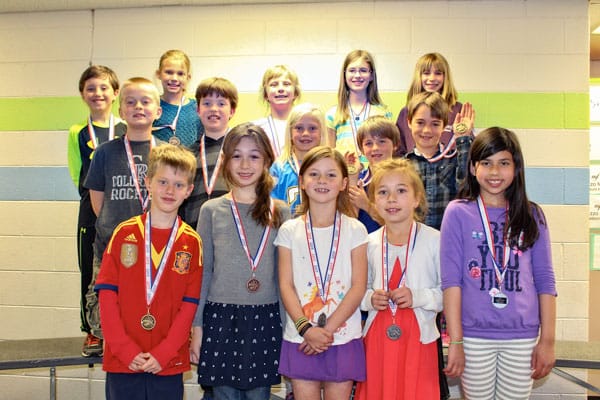 The BRE Science Fair winners stand proud after being awarded top honors on Monday, April 20. (Not pictured – Drew W. and Jenna P.)
Article and photo by Elean Gersack
Congratulations to all of the young scientists at BRE who took part in the fourth annual Buffalo Ridge Elementary school's Mission: Curiosity! Science Fair on Friday, April 17. It was a time to dig in and learn about all things interesting using the scientific method.
In total, 110 students took part in the day. With many weeks worth of research in hand, these youngsters presented projects to a host of judges. Parents provided much encouragement along the way to inspire these future engineers, mathematicians, physicians, programmers, teachers and more to work hard. Parent volunteers John Black and Kathleen Pirazzi led the efforts at school as leaders of the Science Committee.
"The level of science these BRE students demonstrated through their project was just incredible and their enthusiasm and excitement for science is amazing. Each year the students seem to outdo previous years, both in their science and their excitement. This yearly event is such a success because of our great students, teachers, administration, parents and volunteers," said Pirazzi.
The annual BRE Science Fair judging tradition continued with support from the Rock Canyon High School feeder area. Principal Andy Abner from Rock Canyon High School along with teacher Joy Burton and seven Science Fair Judging Club students helped judge the event. Rocky Heights Middle School Principal Mike Loitz attended the event, while teacher Cameron Randolph helped judge as well. Rounding out the judging crew was Kris Walsh, retired director from United Launch Alliance. Special accolades to those students who took top honors!
Kindergarten, first and second grades –
First place: Martin B. with "Exploring Conductivity"; Second Place: Mia L., Madison P., and Macy R. with "Fungi By Fun Girls"; Third Place: Katherine S. with "Bristle Bats."
Third grade –
First Place: Finley S., Liam G., Kendall M., and Maxx M. with "Testing the Power of Magnetism"; Second Place: Jenna P. with "Crystals In Their Shapes"; Third Place: Kian O. with "Electric Current from Dissolved Substances."

Fourth grade –
First Place: Landrey B. with "Static Electricity"; Second Place: Chase C. with "Structure"; Third Place: Ava T. with "Build an Underwater Robot."
Fifth grade –
First Place: Emersen M. with "Remember This"; Second Place: Drew W. with "Can Dogs Drool Kill Germs?"; Third Place: Sydney J. with "Wormholes."