Haiti relief takes the form of child's play
July 1, 2013
/
/
Comments Off

on Haiti relief takes the form of child's play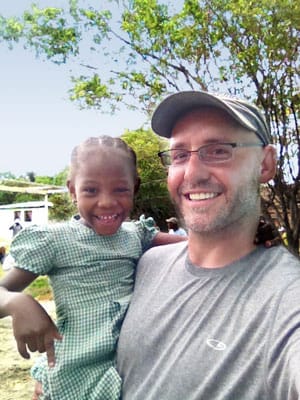 Cook and his new friend find time to get to know each other.
By Lisa Crockett; photos courtesy of Craig Cook
Play is the work of childhood. And just like adults, children often produce the best results when they have the right tools. Castle Pines resident Craig Cook visited Haiti in May, along with 12 of his co-workers and a few of their friends and family, on a mission to provide those vital tools of childhood. Cook, who works at IT company Long View Systems as its Chief Architect of Cloud Services, spent a week in the impoverished nation. Still reeling from a massive earthquake in 2010, aid has poured into Haiti from around the world to help with everything from disease prevention to providing shelter. For Cook and his group, child's play was at the top of the list.
"During our group's time there, we were able to complete the construction of three playgrounds at schools run by a group called the Haiti Outreach Mission," said Cook. "At first it broke my heart a little because when we showed the children our finished work, they literally didn't know what they were looking at. We had to show them how to use the equipment, how to slide down the slide. But it didn't take long for them to learn – five minutes and I was witnessing sheer joy on the faces of these children."
Cook and the group from Long View spent their time in Cite Soleil, a part of Port au Prince that is home to a densely populated shanty town, an area lacking in basic sanitation and infrastructure. But despite the dire conditions he found there, Cook said he was impressed with what he found in Cite Soleil.
"I wasn't sure how we would be received when we got there," said Cook. "But I always felt safe and welcomed. I couldn't get over how resilient the people are, they are the happiest people I've ever met."
And while Cook acknowledges that the contribution his group made was important – Cook used his carpentry skills to take the lead on the building project – he also said he feels that what he gained on the trip was even more significant.
"I gained valuable perspective while I was there; you can't choose where you are born, but you can choose to be happy," said Cook. "Being around the people there, I was motivated to work even when I was exhausted. There are so many people doing the same thing, it's inspiring. I realized that here where we are so blessed, we sometimes get worked up about things that are unimportant."
The trip was the fifth time a group of Long View employees has visited Haiti to participate in humanitarian aid projects, and Cook is already thinking about a return visit.
"I will definitely go there again, either with Long View or independently," said Cook. "I think the next time I'd like to maybe go and help build an orphanage. In Haiti, parents are still involved with their kids in orphanages, they send them there to give them a better chance in life. I'd like to be part of that."
In addition to their playground-building project, the team from Long View made a cash donation of $12,000 to the Haiti Outreach Mission. For more information about Haiti Outreach Mission, visit www.haitioutreachmission.org.

Castle Pines resident Craig Cook visited Haiti in May to assist in the construction of three playgrounds.