DC Dolphins splash into new facility, program
July 1, 2013
/
/
Comments Off

on DC Dolphins splash into new facility, program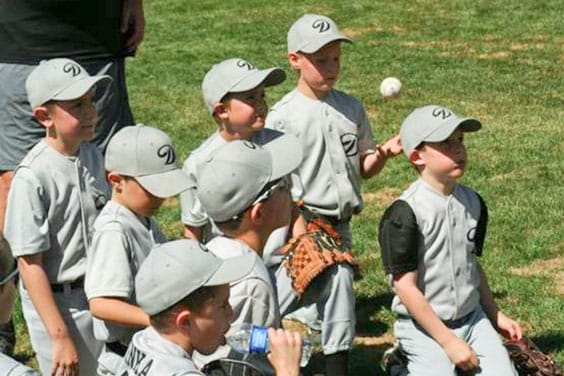 The DC Dolphins Youth Athletic Club will open a new "Dolphin Tank" youth sports complex in Castle Rock next month. Other changes to the organization include a new logo, website, and the formation of a baseball academy, which provides training during the regular season as well as off-season training.
By Lisa Crockett; photo courtesy of Keith Kemph
A new day is dawning for the DC Dolphins, a Douglas County youth athletics club that has been serving the community for 30 years. Changes to the organization's parent communication, logo, and website reflect the growth of the organization, which provides programs in football, basketball, volleyball, cheer, softball, and baseball. Next month, the Dolphins will host a grand opening at the "Dolphin Tank," a state-of-the-art youth sports complex in Castle Rock. Another significant change includes the formation of a baseball academy, which provides a consistent, disciplined forum for training youth baseball players during the season, as well as off-season training.
"The academy is a way to step it up a little and is a more formal, structured approach to teaching youth baseball players," said Keith Kemph, a Dolphins parent and board member who has volunteered to help with the implementation of the new academy approach. "These changes to the Dolphins reflect a renewed energy and focus; we want to be the leading youth athletic club in Colorado."
In addition to providing more repetition and practice time, the academy will also provide training for the volunteer coaches who staff Dolphins teams.
"The primary focus is that playing baseball has a positive impact on youth baseball players," said Kemph. "This new academy will allow us to generate fantastic baseball athletes – and scholarship opportunities – for generations to come.
That approach is one that appeals to father and veteran volunteer coach Nick Ciccio, a Castle Pines resident who has four sons – 14-year-old Nick, 11-year-old Mike, 8-year-old Trey and 7-year-old Joe, on Dolphins teams.
"I feel like the new academy is a good strategy to streamline fundamentals and concepts to be taught to players and it helps coaches feel like they're moving in the same direction," said Ciccio. "It gives us a way to provide a high level of instruction."
Because the new academy provides training in the off-season, it allows players to improve in new ways.
"Our oldest son has enjoyed the academy," said Ciccio. "He was initially on the fence about it because of scheduling and interference from other sports he plays, but once he started to see improvement in his game and the high level of training, he realized it was worth the time, energy and effort."
One thing that won't change at DC Dolphins is the emphasis it places on skill development and individual improvement.
"I sincerely care about each player and whether they move from being an 'A' player to an 'A+' player or from being a 'B' player to an 'A' player, that's a successful season," said Ciccio. "This is a tremendous opportunity to learn a complicated game."
The Dolphins will host a grand opening celebration at the new Dolphin Tank facility in Castle Rock (located at 1733 South Perry Street in Castle Rock – units 104, 105 and 106) on August 17 from 10 a.m. until 6 p.m. The Celebration will feature an open house of the facility for visitors to walk through and either take a swing in the batting cages, go tumbling in the cheer room, or try to spike a volleyball over the net. The event will include a select group of celebrity athletes, Bronco cheerleaders, and more.
For more information about the DC Dolphins, including how to register for the baseball academy, visit www.dcdolphins.org.