February 1, 2011
/
/
Comments Off

on Happy to be gluten free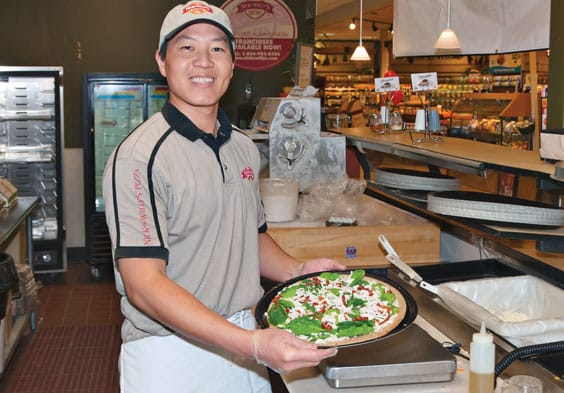 Pizza Chef and Owner, Sang Duong of Nick-N-Willy's Pizza

with their new gluten free pizza creation
Submitted by Joe Gschwendtner; Photo by Tim Gamble
Nick-N-Willys at King Soopers on Lagae Road is now offering gluten-free pizza. The thin crust is from The Gluten Free Bistro in Boulder in medium size only. Compared to other gluten-free pizzas in the Denver area, it is well worth the price.
Who needs a gluten-free pizza? According to an expert on issues of food allergies and celiac disease, Dr. Rodney Ford from Christchurch, New Zealand, one in one hundred people have celiac disease and ten in one hundred react adversely to gluten.
Within the last ten years, many gluten-free products have become available. Cereals, pastas, breads, muffins, and prepared meals provide convenience and assurance for those sufferring from celiac disease.
A gluten-free product guide is available for $10 from the Denver Chapter of the Celiac Sprue Association; www.csaceliacs.org.