High School business program grows a business with a purpose
January 1, 2017
/
/
Comments Off

on High School business program grows a business with a purpose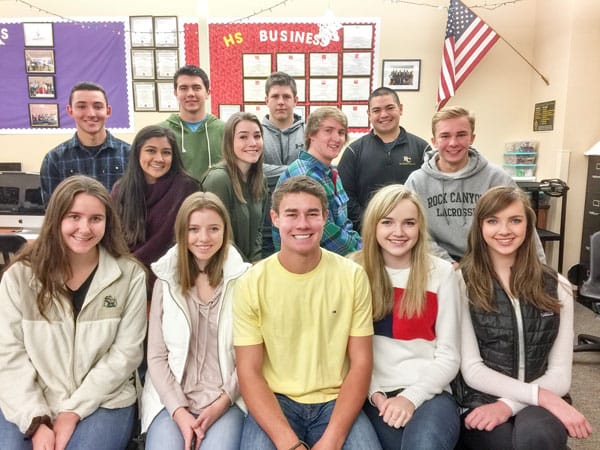 Some of the students in the RCHS School of Business program who have created a business, Canyon Containers, as their senior project. They will be donating proceeds of their water bottle sales to Charity Water. Pictured back row: Jesse Hernandez, Leighton Koldyke, Eric Young, Seth Lawson. Middle: Hannah Philip, Sara Davis, Brian Dunn, Brayden Lambrecht. Front: Emma Malensek, Katie Suhanyi, Nick Caldwell, Marissa Metcalf and Madison Metcalf.

By Lisa Nicklanovich; photo by Janna Robinett
Rock Canyon High School's (RCHS) School of Business program has grown tremendously over the last few years, and the six-course program culminates in a senior project in which students start and grow a business from scratch. This year's seniors have a passion and commitment that goes beyond their product, Canyon Containers (CC). The current business class of seniors has 41 students, double last year's class, so they decided to dream big.
It all began with research on products that would appeal to high school students, their target market. The group came up with 15 different ideas and presented them in a "Shark Tank"- like sales pitch. They voted anonymously and narrowed it down to 32-ounce recyclable water bottles. The group did research on costs, suppliers and vendors and created a name and logo for their company. Canyon Containers was born.
The students broke into separate departments by filling out job applications, interviewing and presenting to each other. By vote, a CEO was chosen, as well as vice presidents of marketing, finance, human resources, public relations, purchasing and production and sales. Employees were hired from the remainder of the group. The CEO and vice presidents often met outside of class during their own free time to prepare so they used class time efficiently. Erin Daniel of Castle Pines added, "It was interesting to see how six different departments that each have their own objectives can contribute to the larger shared goals we have for the company."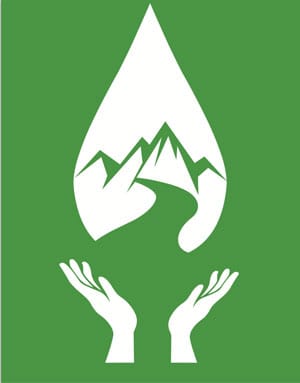 The seniors in the RCHS School of Business program created and voted on this logo for their company, Canyon Containers. Much thought went into the design of the logo to represent their commitment to Charity Water.
After creating their mission statement, CC looked at nonprofits to connect with. They did extensive research on water-related nonprofits and voted on supporting Charity Water, which brings clean and safe drinking water to people in developing countries. While CC decided to have a minimum goal of $3,500 to provide water for life for about 128 people, the bigger goal became $10,000, which sponsors a whole project and digs a well for a community.
Janna Robinett, business instructor and department chair said, "Once this group of students had a purpose, it became their passion. They are excited not just to sell water bottles, but also to provide water to change someone's life. I think that is what business is about; if you believe in your purpose, you can make a difference."
The students had to find investors in order to get the business off the ground. They each gave $5 of their own money and had to find four separate stockholders (only one family member allowed) by giving sales pitches. CC will pay back their small loans with interest.
Marissa Metcalf of Castle Pines Village said her biggest challenge with the project was production setbacks. "We had to learn how to be adaptable to change and how to work with different bumps in the road." The first batch of water bottles will be arriving in time to be sold at eighth grade information night on January 11. Each bottle sold ($15 each) will include a card about Charity Water.
For more information and to help CC reach its goal of selling 700 water bottles and/or $10,000, visit www.rockcanyonjags.com/technology/ and go to the donate link for Canyon Containers or call Donna Rotter at the RCHS front office at 303-387-3011.