Historic Sedalia offers much to neighboring visitors
May 1, 2011
/
/
Comments Off

on Historic Sedalia offers much to neighboring visitors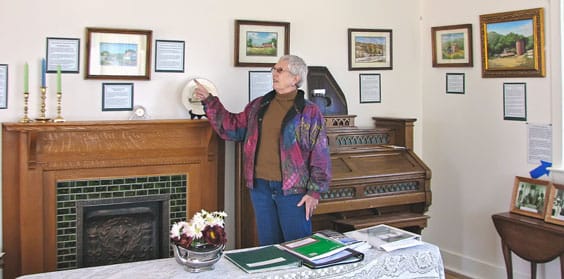 Sedalia Historic Museum and Gardens' publicist Carole Williams stands next to the restored fireplace/mantel and watercolors by a local artist.
Article and photos by Elizabeth Wood West
If you are looking for a charming Mother's Day weekend outing, consider visiting Sedalia. Located less than five miles north of Castle Pines Village on the corner of State Highways 85 and 67, this tiny historic community is home to several shops, an antiques store, casual and upscale dining, and its own museum.
According to local historians, Sedalia was established along the First Territorial Road and had stagecoach service and railroad activity, which still exists today. The town attracted settlers, visitors, businesses, and was a major shipping point for lumber from nearby Pike National Forest.
Several of Sedalia's old homes and buildings that remain today are now shops and restaurants. The Different Drummer Antiques store, 5465 Manhart Avenue, is located in the "Friendly-Beeman House," built in 1912. Gabriel's Northern Italian Restaurant, 5450 Manhart Avenue, is located in the "Manhart Manor," built in 1889. The Sedalia Historic Museum and Gardens, 4037 N. Platte Avenue, is located in the "Bryant House," built around 1898.
The museum and gardens sit on land donated by the West Douglas County Fire Protection District, its next door neighbor. The museum's publicist and editor of The Sedalia View (local newsletter), Carole Williams, said the old house was purchased in 2007 for $1. However, its extensive renovation cost $150,000. "We had grants, donations, and a lot of benefits," Williams said. The museum opened in 2009 with its newly-restored fireplace/mantel, wood floors, antique furnishings, historic reference materials, and artwork.
Sedalia's business owners, museum volunteers, and members of the fire district coordinate several public events and fundraisers throughout the year. O'Brien's Café is hosting its annual Mother's Day Pancake Breakfast to benefit the fire district, a 25-year tradition. Williams and museum volunteers host a Christmas party, several teas, garden tours, and the popular "Ghost Walk" in October to benefit the museum. Williams conducts the spooky after-dark tour of Sedalia, posing as the black-veiled Widow McDonald, whose husband was killed as he was taking his team of horses across the railroad tracks in 1899.
The Sedalia Historic Museum and Gardens is open from April 30 to the end of September, Wednesdays from 1 p.m. to 3 p.m., and Saturdays 10 a.m. to 2 p.m.
For more information about the museum and local happenings in Sedalia, call Carole Williams at 303-688-0601 or e-mail.

The Sedalia Historic Museum and Gardens, located at Highway 67 and N. Platte Avenue.