One "lucky duck" could win a $1 million annuity!
May 1, 2011
/
/
Comments Off

on One "lucky duck" could win a $1 million annuity!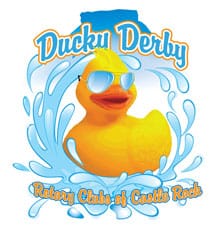 Contributed by Patte Smith; photos courtesy of Elaine Love
"Quack, quack, quack," said the duck as he swam as fast as he could down Plum Creek. "Get out of my 'quack' way! I can win a one million dollar annuity if I'm one of the three lucky ducks who floats across the finish line first!"
Yes, that's right! Three randomly chosen ducks will have a one million dollar annuity attached to their pinfeathers at the 15th Annual Duck Derby in Castle Rock on May 14. Get out and buy tickets for a chance to win! Those who buy tickets will have a corresponding number attached to the bottom of a little rubber duck, and three of the ducks will have a one million dollar annuity attached to it. If none of these three cross the line first, the first place duck will win a $3,000 prize. Many other prizes will be awarded including merchandise, goods and services to ticket holders whose ducks finish in front of the pack.
The Annual Duck Derby and Street Festival runs from 11 a.m. to 5 p.m. at Second and Wilcox Streets in Castle Rock. The rubber ducks will be launched in Plum Creek around 3 p.m.
The derby fundraiser is organized by three local Rotary Clubs – two from Castle Rock and the newly chartered Castle Pines Rotary Club. This event is the clubs' largest fundraiser of the year.
Last year more than $40,000 was raised and given to local, national and international charities such as the Castle Rock Senior Center, the Women's Crisis and Family Outreach Centers of Douglas County, and Crutches4Africa.
Join in this community event and enjoy the fun, food, entertainment, and arts and crafts. Entertainment for kids includes HawkQuest, the Buddy Center, Amberg Entertainment Inflatables, and a Waddle Walk led by a giant duck. The Castle Rock Orchestra, Charlie Miller Quartet, FLINCH and Renaissance Festival Players will perform.
Intermountain Rural Electric Association is again sponsoring the one million dollar ducks. Tickets for the Ducky Derby are on sale weekends at King Soopers in Castle Rock and Castle Pines. Tickets can also be purchased from local Rotarians and will be available online through The Women's Crisis and Family Outreach Center web site, www.TWCFOC.org. Tickets can also be purchased at the Ducky Derby event.
For more information go to the Ducky Derby web site at www.CRDuckyDerby.com and click on the Ducky Derby links on the left side of the page, or contact Elaine Love at 303-284-0514.