Home building in The Canyons still years away
November 1, 2010
/
/
Comments Off

on Home building in The Canyons still years away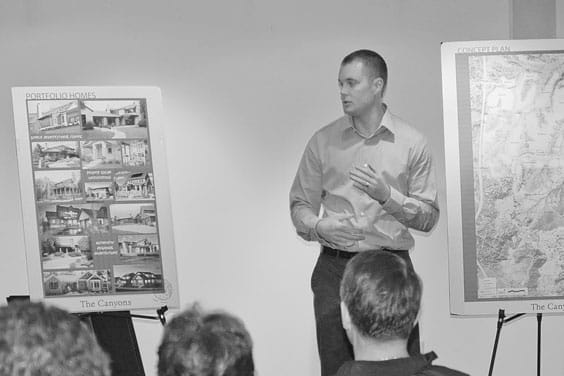 Darren Everett, a representative of The Canyons, makes a presentation to members of the community in October. The development, which is east of Castle Pines North across I-25 and borders the Estates at Happy Canyon on the north and east, is on hold due to economic conditions. It could still be several years before development begins and decades before plans are fully implemented.
Article and photo by Lisa Crockett
The development of land directly east of Castle Pines North on the east side of I-25 and bordering the Estates at Happy Canyon on the north and east is on hold pending improvement in the economy. Long-term plans for the development include 37 miles of bike trails, a working farm, and a "mixed use" area that would include shopping, dining, office and residential spaces. But it could be many years before the first home in the development is ready for sale.
"Starting this development is one hundred percent dependent on the market," said Darren Everett, a representative of The Canyons project in a presentation to the public in October. "We aren't going anywhere and this is a long-term plan."
Currently, The Canyons has an agreement with the Happy Canyon Homeowners Association and the Pinery Homeowners Association limiting development to 1,533 residences. The City of Castle Pines North, however, zoned the development for up to 2,500 residences.
"We would love to see our agreements with Happy Canyon and the Pinery amended," said Everett. "That is something we are working on with those HOAs."
Everett said that the desire to change to a larger number of residences in the development came about when it was determined that Hess Road would connect Parker to I-25 at the Castle Pines Parkway interchange, creating more demand because of increased traffic in the area. Current plans for the land adjacent to the interchange on the east side of I-25 call for an integrated "marketplace," which could include multi-story buildings and a future light-rail stop, though such plans could take decades to come to fruition.
"Some of these plans will be for people who live here a generation or two from now," said Castle Pines North Mayor Jeff Huff, who attended the meeting. "We want to be forward thinking. Ultimately, businesses will decide how things are developed and they may not see a need for this type of higher-density development, but it is zoned that way."
For more information on The Canyons, visit www.thecanyonsliving.com.